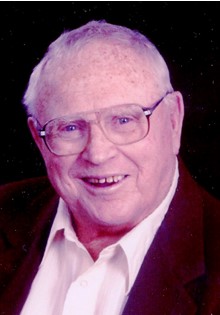 Eugene Gasser, Jr.
Jan 11, 1926 - Jan 3, 2014
Eugene Gasser Jr. was born on January 11, 1926 in Riverton, Wyoming to Eugene Gasser Sr. and Clara Vock Gasser. He started school at Bar G Ranch, moved to Riverton and started second grade. He graduated from Riverton High School with the class of 1944. He played football for the Riverton Wolverines from 1942-1944 and was drafted into the Army on September 23, 1944. He landed in the Philippines where he joined the 136th Infantry and was honorably discharged on September 14, 1945.

Eugene married the love of his life, Mary Cram, on August 3, 1952. Together they raised 8 children. Gene loved and adamantly supported all of his kids. He and Mary traveled thousands of miles to football, volley and basketball games and wrestling matches. There was seldom an event in which his kids participated that he wasn't in the stands verbally making his presence known. He worked in the oil fields and retired as an area foreman on July 6, 1986. In 2001 Gene and Mary moved to Midland, Texas to be near their family.

Eugene is survived by four sons and two daughters: Gary and Tina Gasser of Casper, WY; Daniel and Lacy Gasser of Midland; Ronald and Christe Gasser of Greenwood; Richard and Kim Gasser of Midland; Jeannie and Tim Kohn of Midland and Penney and Dave Parker of Midland. He is also survived by his siblings: Ruth and Chris Pallas, San Bruno, CA; Ralph and Judy Gasser, Riverton, WY; Jeanette and L.F. Tucker, Riverton, WY; Nellie Raymond of Riverton, WY; and many nieces and nephews. Gene is also survived by 16 grandchildren and10 great-grandchildren. He was preceded in death by his wife, Mary Gasser, his parents, Eugene and Clara Vock Gasser and two sons, Timothy John and Michael Eugene.

Eugene was a member of St. Ann's Catholic Church of Midland and made several good friends. He also was a life time member of the VFW.

Rosary will be held at 7:00pm on Monday, January 6, 2014 at St. Ann's Catholic Church. Funeral Mass will be held at 10:00am on Tuesday, January 7, 2014 at St. Ann's Catholic Church. A second rosary will be held on Wednesday, January 8, 2014 at 6:00pm at Davis Funeral Home in Riverton, WY. A service will be held at Davis Funeral Home on Thursday, January 9, 2014 at 10:00am with graveside services to follow. In lieu of flowers, donations may be made to Hospice of Midland, 911 West Texas Avenue, Midland, TX 79701.

Online condolences may be made at www.thedavisfuneralhome.com.

Arrangements are under the directions of Davis Funeral Home of Riverton.