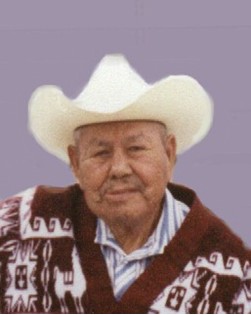 Charles "Chuck" Gambler
Feb 21, 2008 - Feb 21, 2008
Funeral Mass for Charles R. "Chuck" Gambler, Sr. of Arapahoe will be at 10 a.m. Friday, Feb. 22, at St. Stephen's Catholic Church with Catholic clergy officiating.

Interment will be at the Arapaho Catholic Cemetery at St. Stephen's.

There will be a rosary at 7 p.m. Thursday, Feb. 21, at Great Plains Hall at Arapahoe. A wake will follow at the family home, 1284 17 Mile Road, Arapahoe.

Mr. Gambler died at the Wyoming Medical Center in Casper of Monday, Feb. 18, 2008, at the age of 77.

Charles R. Gambler was born at St. Stephen's on Dec. 14, 1930, the son of George Jerome Gambler and Mary Delores (Addison) Gambler. His Indian name was Woxuuwo3eenoo, meaning Plenty Bear.

He was a life-long resident of the Wind River Indian Reservation.

He married Veronica Smith in 1948. She preceded him in death.

On Feb. 16, 1963, he married Levina "Dorothy" Whiteplume, who survives.

Mr. Gambler was of the Catholic faith and active member of St. Stephen's Catholic Church.

He worked as a heavy equipment operator for the Bureau of Indian Affairs on the Wind River Reservation. He had been manager of the Arapaho Ranch for many years and had worked on road construction on many highways in the state. During the uranium mining era, Mr. Gambler worked as an operator for Union Carbide, Lucky Mac Mine, and Sims Corp.

He was a member of the Northern Arapaho Tribe where he served on the Council of Elders, was a past member of the Eagle Drum Group, and was an Arapaho culture teacher.

His family said Mr. Gambler enjoyed watching his grandchildren participate in various activities, attended all birthday parties, graduations, and picnics of his family and friends. He was always prepared to give Indian names and send the blessings.

During high school, he played basketball for St. Stephen's and later coached youth basketball teams.

Survivors include his wife, Dorothy Whiteplume Gambler; daughters, Charlene Gambler Brown and husband Don, Linda Large and husband James, Sarah Running Shield, Flora Running Shield, Shirley Brown, Dora Gambler, Miranda and Rebecca Hanway; sons, Don Gambler and his wife Pam, and Alden Antelope; adopted sons, Brian Trosper, Steve Sitting Eagle, Darnelle Boyer, Teddy Washington, Elmer Blackbird, George Groesbeck, Ryan Gambler, and Matt Champion; adopted daughters, Rhonda LeBeau, Rubena Hernandes, Becky Bishop and husband Allen, Rita and Marcene Willow, Ethel, Liza, and Marsha NotAfraid, Francine LoneBear, Annette Shakespeare, Clarinda Burson, Janell Thunder, Mervene Smith, Becky, Tammy, Melaine, and Theresa Hughes; sisters, Florence Trosper, Frances Dewey, Flora and Cora Willow, Lydia Jenkins, and Georgene Brown, Florence Bell; his adopted families of Martin and Philomena Underwood, Vera Champion, Sherry Woodrich, Shirley and Ed NotAfraid, Sr., and the Mount, Addison, LoneBear and Willow families; 31 grandchildren, 45 great grandchildren, and two great-great grandchildren.

He was preceded in death by his parents, George and Mary Delores Addison Norse; grandparents, Matt and Annie C'Bearing; sons, Dean, Darryl, Dallas, David, Darwin, Charles, Jr., and Benjamin George; daughter, Donna Kay; aunts, Margaret Spoonhunter, and Rita Lee; brothers, Jerome Gambler, Sr., Lawrence Gambler, Linus Dewey, Howard Blackburn, Bill Thunder, Lloyd and James Jenkins; sisters, Antoinette Hanway, Joanne Birdshead, Maria Oldman, Clina Willow, Nora Jenkins, and Inez Warren;

On-line obituaries are available and condolences for the family may be made at: thedavisfuneralhome.com

Services are under the direction of the Davis Funeral Home of Riverton.