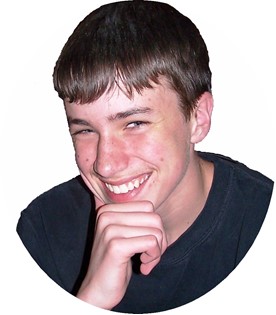 Darren James Collins
Jun 23, 1992 - Mar 1, 2008
Darren James Collins, son of James D. Collins and Rebecca A. (Hill) Jansen, died Saturday, March 1, 2008 at Denver Children's Hospital following a brief illness; he was 15 years old.

Darren was born in Spearfish, South Dakota on June 23, 1992. He lived most of his life in Riverton, Cheyenne, and Cody Wyoming. For the past seven months Darren was living in Cody and was a sophomore at Cody High School. Darren was ambitiously pursuing courses with dreams of becoming an attorney.

Darren enjoyed life. His passions were hunting, fishing, rock climbing, snowboarding, and drawing. He had a quick wit, a ready laugh, a heart for others, and a smile that would light up the room.

Darren loved his family deeply. He enjoyed spending time with them and was his siblings' hero, best friend, and confidante.

Darren was a good friend to many. He was the quiet and steady one whom others turned to. He accepted Christ as his personal savior at his maternal grandmother's house in the summer of 2007 and lived his life as a person of faith and character. He will be missed by all whose good fortune it was to know him.

Survivors include his mother and step-father, Rebecca and Hal Jansen of Cheyenne; father and step-mother Jim and Jill Collins of Cody; grandparents Tom and Patricia Hill of Riverton and Pat and Patty Collins of Shoshoni; brother Warren Collins, sisters Kayla Collins and Bridget Collins, Cynthia Jansen, Danielle Jansen and Jordan Jansen all of Cheyenne.

A memorial service for Darren Collins will be held at 1:00 p.m. on Saturday, March 8, 2008 at Neighborhood Alliance Church in Riverton with Tom Hill officiating. Cremation has taken place.

Memorial funds have been set up at Cody Schools Credit Union in Cody and at any Wells Fargo Bank.

On-line condolences for the family may be made at: thedavisfuneralhome.com.

Services are under the direction of the Davis Funeral Home of Riverton.