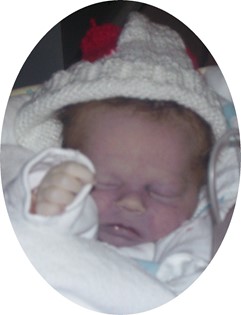 Kyler Lynnette Weber
Mar 12, 2008 - Mar 13, 2008
Kyler Lynnette Weber, infant daughter of Shawn and Tiffani Weber of Riverton, died Thursday, March 13, 2008 at Riverton Memorial Hospital, five hours after birth.

Funeral services will be held at 10:00 a.m. Monday, March 17, 2008 at Davis Funeral Home, with Pastor Aaron Justice officiating. Burial will follow at Mountain View Cemetery.

The Webers will receive visitors from 4-6 p.m. Sunday, March 16 at Davis Funeral Home.

Kyler Lynnette Weber was born to Shawn Weber and Tiffani (Bauer) Weber on March 12, 2008 at Riverton Memorial Hospital.

In addition to her parents, the infant is survived by a sister, Emmi Lou Weber, grandparents Ron Weber of Riverton, Anna Weber of Mesa, AZ, Doug and Tera Bauer of Riverton; great grandparents Butch and Judy Baty, Gary and Margie Bauer all of Riverton, Glenna Bauer of Carrington, ND, Dennis Cruikshank of Havasu City, AZ; great great grandparents Ray Cruikshank of Newhall, CA, and Ruth Cone of Riverton; aunts and uncles Trista Bauer and Tasha Bauer of Riverton, D'Anna Cantrell, son Ty Cantrell and fiancé Adam Powell of Riverton, Sami and Sean Brennan and children Tyler and Hailey of Gilbert, AZ, Scot and Mel Weber and children Stefan, Alex and Andy of Fort Collins, CO, Gayla and Bryan Cruikshank and children Darcy and Codi of Dallas, TX, Tammi Bauer of Bismarck, ND, Joe Bauer and children Brandon, Brittany and Brooke of Loveland, CO.

She was preceded in death by great grandparents Sam and Esther Weber, Leo and Ruth Moorman; great great grandfather Dick Cone.

Memorial donations may be made to Primary Children's Medical Center in Salt Lake City, c/o Davis Funeral Home, 2203 W. Main, Riverton, WY 82501.

On-line obituaries are available and condolences for the family may be made at: thedavisfuneralhome.com

Services are under the direction of the Davis Funeral Home of Riverton.