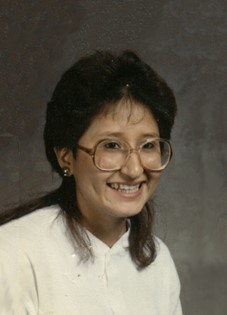 Trina Michelle Dull Knife
Feb 19, 1971 - Mar 14, 2008
Trina M. Dull Knife of rural Riverton died on Friday, March 14, 2008, at the age of 37.

Funeral services were Tuesday morning, at St. Stephen's Catholic Church in Riverton with the Rev. Father Dan Gannon officiating. Burial followed at the Arapaho Catholic Cemetery at St. Stephen's.

A rosary was held Monday evening at the home of her brother, 1315 Quiver Lane.

Trina Michelle Dull Knife was born on Feb. 19, 1971, in Riverton, the daughter of Dwayne Bell Sr., and Sadie Bell. She was graduated from Heart of the Earth High School in Minneapolis, Minn., and attended a year of college in Clovis, N.M.

She lived in Minneapolis and St. Paul from 1984 to 1992, then moved to Clovis, N.M., 1993 to 1995, and in Casper from 1995 to 2008.

Ms. Dull Knife worked as a laborer in road construction, as a custodian for Central Wyoming College, as a nurse's aide at Riverton Memorial Hospital and Wind River Healthcare. She had also worked in the Wind River Healthcare kitchen, had worked as an aide at Ramsey County Hospital in St. Paul, and was an usher at the MetroDome in Minneapolis.

She was a member of St. Stephen's Catholic Church and the Native American Church.

Her family said Ms. Dull Knife enjoyed spending time with her children, her nieces and nephews, was a long distance runner, and enjoyed traveling and playing video games.

Survivors include her companion, Richard Brown of Casper; a son, Nikko Bissonette of Farmington, N.M.; daughters, Dimitri Bissonette of Casper and Allyson Amos of Riverton; father, Gordon Wanstall of Kinnear; step-father, Duane Bell, Sr., of Riverton; mother, Sadie Bell of Riverton; brothers, Dave Glasscox of Miami, Okla., Byron Bell of Riverton, Duane Bell, Jr., of Arapahoe, Daniel Bell of Worland; Dave Bell and wife Nomie of Fort Washakie, Darrell Bell and wife Alta of Fort Washakie; sisters, Dawn Teller and husband Dennison of Farmington, N.M, DeAnn Wanstall, Mary Bell of Worland, Lynette Bell of Fort Washakie, Amy C'Hair of Riverton, Johnna Moss of Clovis, N.M., and Kathy Shakespeare of Riverton.

She was preceded in death by a sister, Cindi Bell; grandparents, Frank and Alice C'Hair; uncles, Pat, Lawrence, Albert, and Louis C'Hair.

On-line obituaries are available and condolences for the family may be made at: thedavisfuneralhome.com

Services are under the direction of the Davis Funeral Home of Riverton.