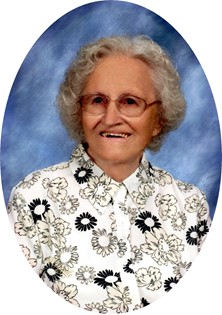 Marjorie Locker
Nov 13, 1918 - Jan 4, 2016
Marie "Marjorie" Locker, 97, of Missouri Valley, died on Monday, January 4, 2016, at Help for Health Hospice Home. Funeral services will be held at Davis Funeral Home on Friday, January 8, 2015, at 10:00 am. Pastor Cleve McSwain will officiate. Burial will follow at Mountain View Cemetery.

Marie Marjorie Anderson was born on November 13, 1918 in Cheyenne, WY to Roy Dale and Anna Marie (Miller) Anderson. She was raised with her two brothers in Cheyenne. She graduated high school from Douglas High School through a correspondence course.

On December 29, 1937 she married Cloyd Raymond Locker in Douglas, WY. After they were married, they lived on a large ranch outside of Douglas, where Cloyd was a foreman. It is there they had their four boys. In the mid 1950's the family moved to their own ranch out on Missouri Valley Road.

She was of the Methodist faith.

While raising her family and working on the farm she also worked for the State of Wyoming as a social services worker. She was known to have lunch with the governor "because he liked what I did". She enjoyed her job and helped a great number of people over the years.

She loved being with her family, being around the cows, calves, horses and watching the wildlife, especially deer. She was involved in keeping her children active in 4-H and school activities. She was always present at all of their activities helping or cheering them one. She loved to play the piano and in the 30's and 40's she and her husband played at community dances in Esterbrook, WY.

She was a member of the United Methodist Women's Club, an Election Judge for Fremont County, was the local Salvation Army representative for years, and was huge supportive of the Midvale Fire Dept.

She is survived by her sons, Bill Locker and his wife, Charlene, Dave Locker and his wife, June, Jeff Locker and his wife, Rhonda, and Brad Locker and his wife Marylou; her nine grandchildren, Linda, William Jr., Terri, Jesse, Holly, Eric, Candis, Brandon, and Heather; numerous great grandchildren and great great grandchildren.

She was preceded in death by her husband, Cloyd Locker; her brothers, Dale Anderson and Harold Anderson; and her parents, Roy and Anna Anderson. Memorials may be made to Help for Health Hospice Home in care of Davis Funeral Home, 2203 West Main Street, Riverton, WY 82501.

On-line condolences may be made to the family at www.TheDavisFuneralHome.com.

Services are under the direction of Davis Funeral Home.