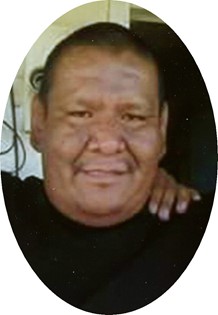 David Killsree
Jan 25, 2016 - Jan 25, 2016
David Charles Killsree, 37, of Riverton died Friday, January 15, 2015 at the University of Colorado Hospital in Aurora, Colorado. Funeral services will be Tuesday, January 26, 2016 at the St. Stephen's Catholic Church, at 10:00 a.m.. Burial will follow at the Arapaho Catholic Cemetery. A Rosary and Wake will be Monday, January 25, 2016, 7:00 p.m., at the Blue Sky Hall.

David Charles Killsree was born January 26, 1978 in Lander, WY to Garry Wayne Killsree and Ruby Ann Willow. He was baptized at St. Joseph's Catholic Church at Ethete, WY. He attended school at Mill Creek.

His family said he enjoyed listening to music, being around his grandchildren, playing video games and going to the casino.

David lived in Pine Ridge, South Dakota for 8yrs., Wapato, WA, Chadron, Nebraska while he worked in a youth program rebuilding homes, and Riverton, WY.

He is survived by brothers, Bryon Killsree, Chet Killsree, Fabien Killsree, Kevin Killsree, Troy Dog Trail, Herman Moss, III, Lloyd Moss, Jason Moss, Enroe Jealous, Thomas Ruben Moss, Joseph Willow, Steve Willow, Wesley Willow, Jr., and Gabriel Willow; adopted brothers, Weston GhostBear and Patrick Kills; sisters, Cherie Killsree, Tashena Jealous, Tlana Jealous, Rosalie Willow, Leta Sandillanes, Theresa Willow, Mary Willow, April Willow, Tonya Moss, Melissa Moss, Crystal Moss, Kimberly Moss, Adrian Moss, and Agnes Moss; aunts, Frances Willow, Veronica Willow, Joan Willow, Margret Willow, Linda Willow, and Eloise Willow; uncles, Rodney Willow, Rueben Willow, Wesley Willow, Norman Willow, Dana Antelope, Darren Antelope, John Willow, Jr., Aaron Friday, Rarlin Friday, and Bob Headley; nieces and nephews, Lashena Irwin, Carol Irwin, Nilena Jealous, Moring Star Eagle, Tyrah Eagle, Kyah Eagle, Skylynn Wing, Summer Wing, Dreamer Bravehawk, Evelyn Jealous, Emily Jealous, Larnyia Jealous, Chynna Littleshield, Marcela Christian, Katley Duran, Kylena Duran, Tailianna Paulsen, Elizabeth Paulsen, Leslie Fournier, Mekia Geboe, Dominic Geboe, Jr., Eli Geboe, Stephanie Big Medicine, Mariah Addison, Harland Addison, Jesse Addison, Auree Blackburn, Archie Big Medicine, Jr., Hiram and Horace Big Medicine, Whitney Ghostbear, Wynonna "Whisper" Ghostbear, William Ghostbear, Wendell, "Wyatt" Ghostbear, Adren Antelope, Areaonna Tulee, Jacoby Tulee, Miles Christian, Jr., and Cassius Christian; grandparents, Lucy Willow and Alvina Friday; grandchildren; Wardina Ghostbear, Shyleigh Ghostbear, Adamae Ghostbear, Tyrain Roman, Mason McClain, Hunter Roman, and Saraya Ghostbear; and all extended families of Willow, Jealous, Moss, Friday, and Antelope.

He is preceded in death by father, Garry Killsree; mom, Ruby Willow Killsree; grandparents, Evelyn Willow, Oliver Willow, and Charles Killsree; Curtis Killsree, Patrick Killsree, Thomas Blackbear, Theodore Killsree, Stefan Big Medicine, Connie Oldman, and Deanna " Dee" Antelope.

On-line condolences for the family may be made at theDavisFuneralHome.com.

Services are under the direction of the Davis Funeral Home.