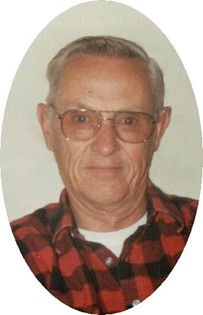 Elden Draper
Dec 7, 1928 - Feb 9, 2016
Elden Draper, 87, of Riverton, died on Tuesday, February 9, 2016, at the Wind River Healthcare and Rehabilitation Center. A funeral services will be held at 10:00 am on Friday, February 12, 2016, at Davis Funeral Home. A viewing will be from 9:30 am to 10:00 am on the day of the service. Burial will follow at Mountain View Cemetery.

Elden Earl Draper was born on December 7, 1928 in Bayard, NE to Joseph Sanford and Ruth Marie (Earnst) Draper. When he was five years old the family moved to Paradise Valley to homestead. He attended schools in Riverton where he was a member of FFA and graduated with the class of 1947. After graduation he entered the U.S. Air Force and served four years, two in Hawaii.

After being discharged he returned to Riverton and met his wife, Rhea Katherine McCartney. They married on September 15, 1956 at St. Margaret's Catholic Church in Riverton. They raised their four children in Riverton and made it their home.

He worked for Chopping Chevrolet after returning to Riverton. In the early 1960's to the early 1970's he was a partner with Ed Ingram in West Main Auto Repair. He then went to work for the Riverton NAPA Auto Parts as a machinist and Well Tech before retiring.

His family said he enjoyed the outdoors, camping, fishing, rock hunting, four-wheeling, snowmobiling and whittling.

He is survived by his wife of 59 years, Rhea Draper; sons, Michael Draper and his wife, Audra, Monte Draper, and Mark Draper and his wife, Kim; daughter, Hallie Hermann and her husband, Kevin; ten grandchildren and thirteen great grandchildren.

He was preceded in death by his parent, Joe and Ruth Draper; sister, Twila (Draper) White; and nephew, Jim White.



On-line condolences may be made to the family at www.TheDavisFuneralHome.com.

Services under the direction of Davis Funeral Home.