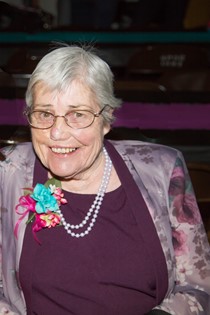 Marilyn Albright
Aug 30, 1936 - Feb 19, 2016
Marilyn Albright, 79, of Riverton, died on Friday, February 19, 2016, at the Help for Health Hospice Home. No services are planned at this time. A Celebration of Life will take place in the Summer of 2016.

Florence Marilyn Nevin was born on August 30, 1936 in Lander, WY to Merlin Joseph and Helen (Barnes) Nevin. She grew up in Riverton and graduated from Riverton High School.

She was a member of the Trinity Lutheran Church where she was baptized and confirmed.

On April 20, 1953, she married Donald Gene Albright in Billings, MT. Together they raised eight children in Fremont County Before the family moved to the ranch she worked at the Woolworths Dime Store in Riverton. While busy raising her eight children she was also a rancher's wife. This included keeping books for the ranch, helping with the animals even in the middle of the night, transporting the works to different areas of the ranch, cooking meals not only for the family but for the workers, working in the fields, planting gardens, and so many more things. And in her spare time she drove School Bus.

Above all she loved being with her family as it grew to include the in-laws, grandchildren and great grandchildren. As a family they enjoyed the mountains, camping, and fishing. A ritual that she enjoyed was playing Pinochle with her family and friends.

She is survived by her sons, Harold R. Albright and wife, Lisa of DuNoir Valley, Dubois, WY and Don J. Albright and wife, Kelly of Riverton, WY; daughters, Donna K. Albright Kelsey and husband, Oscar of Hidden Valley, Shoshoni, WY, Rhonda L. Albright Hernandez and husband, Richard of Riverton, WY, Lorrie A. Albright Walton and husband, Rick of Black River Falls, WI, Jodi D. Albright Arthun and husband, Bruce of Wilsall, MT, Gail J. Albright Bell and husband Tim of Riverton, WY, and Leslie H Albright Pacheco and husband, Mike of Saratoga, WY; sister, Karen Nevin Auty and husband Allen of Riverton, WY; 20 grandchildren and 23 great grandchildren.

She was preceded in death by her parents, Joseph and Helen Nevin; husband, Donald Gene Albright; sister, Jodi Lacy, and two grandsons, Mike and Christopher.

Memorials may be made to Help for Health Hospice Home in care of Davis Funeral Home, 2203 West Main Street, Riverton, WY 82501. On-line condolences may be made to the family at www.TheDavisFuneralHome.com.

Arrangements under the direction of Davis Funeral Home.