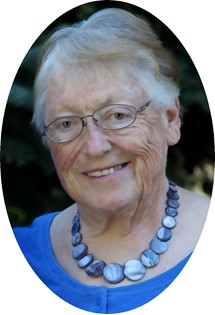 Mary Hovander
May 25, 1939 - Mar 31, 2016
Mary Dell Teter Hovander passed away March 31, 2016 in her lifelong home, in the company of family. She was born to Emily Louise Fowkes and James Edward Teter on May 25th, 1939 in Gunnison, Utah.

Funeral Services will be held at 1:00 p.m. on April 9th at the Church of Jesus Christ of Latter day Saints Stake Center in Riverton WY at 430 Elizabeth Dr. Burial will follow at the Mountain View Cemetery.

As a child she moved from Gunnison, Utah to San Clemente Island off the coast of California during WWII. After the war her family moved to Riverton, Wyoming in 1947.

Mary Dell was a member of the Church of Jesus Christ of Latter day Saints.

She graduated from Riverton High School in 1957. She obtained a Bachelors degree in Medical Technology from Utah State University in 1962. While at Utah State University she competed on the women's shooting team. She interned at the LDS hospital in Salt Lake City. She returned to Riverton to work as a Medical Technologist at the Riverton Hospital.

Mary Dell Teter was united in marriage to Richard Dean Hovander on August 28th, 1963 and latter sealed for all eternity in the LDS Salt Lake Temple on Jan 6th 1990. The young couple established themselves in Riverton and building the home to which they would welcome 6 children.

Mary Dell's home was always a welcoming place. Over the years many friends of her children enjoyed great adventures, hearty home cooked meals and, often, found refuge within the walls of her home. Many children would grow to consider her a "second mom." Her home was also a refuge for many a bird with broken wing, bedraggled kitten and homeless mutt of a puppy.

A few of Mary Dell's interests included bird watching, flowers and gardening. She was passionate about education and was a prolific reader. She enjoyed painting, carving, sculpting and crafts. She loved all animals and especially horses and dogs. She was heavily involved in 4-H and was a frequent participant in the Fremont county fair especially in the flowers, canning and fiber art divisions. In her younger years she rode thousands of miles on horseback around the Riverton area and spent much time in the Wind River Mountains on family pack trips. Some of her fondest memories of her youth involved these adventures with her dear friend Nettabell Girard and cousin Carol White Mathis of whom she considered to be sisters.

She is survived by her husband Richard Dean. Daughters, Holly Sheldon, Spring McKee and her husband James, Nikki Hill and her husband Wade; sons Donald Hovander and his wife Wanda, JaDell Hovander and his wife Heather. Ten granddaughters, AleahDell Sheldon, Kaylynn Sheldon, Mesa McKee, Aspen Mckee, EmmaLee Hovander, Savannah Hovander, Indy Hill, Sissa Hovander, Karen Hovander, and Addie Hovander. Two grandsons Cade Hill and Teter Hovander. Step family Reed Lunnen, Vard Lunnen, Nelda Foster, Neva Gardner, Boyd Lunnen, John Lunnen, Joyce Eckman and numerous nieces, nephews, cousins and a host of friends.

She was preceded in death by her parents, step father Albert Lunnen and her oldest son James Edward Hovander.

She suffered lifelong infirmities from childhood diseases that are now preventable by vaccines. Therefore, she was a strong proponent of vaccination. She asked that inlue of flowers donations to be made to LDS Philanthropies Humanitarian Services at the following link: https://www.ldsphilanthropies.org/humanitarian-services.html

On-line condolences may be made to the family at www.TheDavisFuneralHome.com.

Services are under the direction of Davis Funeral Home.