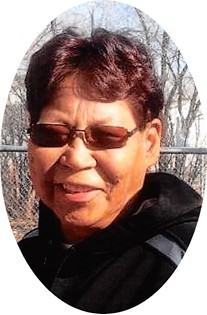 Lucia "Lucy" Jenkins
Jul 15, 1957 - Apr 4, 2016
Lucia "Lucy" Jenkins-Molash, 58, of St. Stephens, died at Sage West Healthcare – Riverton, on Monday, April 4, 2016. A rosary and a wake will be held at 7:00 pm on Thursday, April 7, 2016 at Great Plains Hall. A funeral mass will be on Friday, April 8, 2015, at 10:00 am at St. Stephens's Catholic Church at 10:00 am with Father Phil Wagner officiating. Burial will follow at the Arapaho Catholic Cemetery.

Lucia Ann Jenkins was born on July 15, 1957 in Riverton to Lydia M. Jenkins. She grew up in the St. Stephen's area and attended grade school and junior high school there. She attended Riverside High School in Anadarko, OK and Intermountain High School in Brigham City, UT. She was a lifelong resident of the Wind River Reservation.

She was of the Catholic faith.

She worked as a housekeeper at various motels in Riverton and most recently was working at the Wind River Casino as a cook and dishwasher.

She enjoyed listening to music, dancing, going to the casino, and playing around with her grandchildren. Her family said she was a good frybread maker.

She is survived by her husband, Bart Molash; sons, Cody Blackburn, Jude Jenkins, Mooney Blackburn, and Adrian Spotted Elk; daughters, Jody Blackburn and Modesta Blackburn (companion, Andrew Bearing); mother, Lydia M. Jenkins; brothers, Jude Jenkins, Sr., Chauncy Friday, Hubbs Warren, Paul Warren, Sr., Clarence Jenkins, and James "Mike" Jenkins; sisters, Claudia Jenkins, Catherine Jenkins, Belinda Warren, Judy Warren, Pauline Warren, Kathleen Warren, Marie Jenkins, and Caroline Hill; grandson, Chester Moss, Jr; and granddaughters, Alana Moss, Amanda Moss, and Antonia Blackburn; great grandson, Andrew Bearing, Jr.; nieces, Charnele Jenkins (companion, Donavon Shakespear), Charlene Brown, Desea, Dani, and Tala Spotted Elk, Amanda N., Amanda L., Jamie, Kelly, and Adellia Jenkin, Threase, Rosa, Raylene, Charmayne, Sonja, Cheyenne, Kateri, and Ineza Warren; nephews, Mister Brown, Eldon Wanstall, Terrence P. Jenkins, Ronnie Jenkins, Joseph Jenkins Sr., Travis Warren, James Eagle, Jerome Warren, Pascal Warren, Polt Warren, and Paul Warren Jr.; close friends, Jenny Brown, Dee Wanstall, Kathleen SunRhodes, Daryl Makeshine, and Teddi Killsontop; and numerous grandchildren.

She was preceded in death by her daughter, Rochelle Blackburn; brothers, Anthony Thurlo, Sonny, Jubal Julian Jenkins, and Marvin Friday; sisters, Michele Jenkins Janice, Janet, JoAnne, Josephine, and; and grandparents, Thurlo and Amanda Jenkins; granddaughter, Baby Girl Jenkins; nephew, Lawrence Jenkins, Sr.; aunts, Nora Jenkins and Inez Warren; and uncles, Hubert Warren Sr., Jimmy Jenkins, and Lloyd Jenkins.

On-line condolences may be made to the family at www.TheDavisFuneralHome.com.

Services under the direction of Davis Funeral Home.