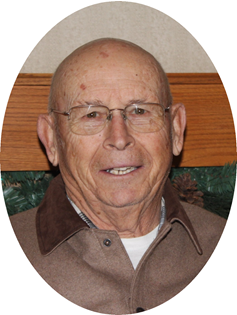 Raymond "Ray" Berg
Jul 10, 1935 - Mar 29, 2016




Raymond Berg of Riverton died on Tuesday March 29th, 2016 at University of Utah Medical Center in Salt Lake City, Utah. He was 80 years old. A memorial service will be held on Saturday, May 21, 2016, at the United Methodist Church at 10:00 am with Pastor Ian McFarland officiating.

Raymond Berg was born on July 10, 1935 in Nortonville, North Dakota to Norbert and Mable Berg. He attended 1st-12th grade in Nortonville where he graduated in 1953. Ray and Delene were married October 2nd, 1954. He then attended the Utilities Engineering Institute in Chicago for Diesel Mechanics and Ellendale Teachers College in Ellendale, ND. Ray, Delene, and the 3 "Big Boys" lived in the Nortonville area until 1971.

They then moved to Riverton where Ray worked as a teacher instructing small engine repair classes, and most notably woodworking classes. He was the first teacher in the Career Center and taught for many years there until he retired in 1993. Ray (Mr. Berg) enjoyed his students and relished running into them later in life. Ray enjoyed the outdoors as well as hunting and spending time with his family. In his later years he managed his storage units and apartments, tinkered on tractors, and did a fair amount of what he liked to call puttering. He could often be found at auction sales, men's breakfast at the Greasy Spoon, or perusing the streets of Riverton. For the last nine years his constant shadow was Jazz, his Yorkie Terrier. Wherever Ray went, Jazz was sure to follow. Family in all aspects was very important to Ray. He cherished watching his children and grandchildren grow, getting to play with his great grandchildren, and spending time with his faith family at Cornerstone Church. Ray is proceeded in death by his parents, Norbert and Mable Berg and his grandson Ryan Berg. He is survived by his wife Delene and their five children; Bruce (Jane) Berg, Brad (Carri) Berg, Bryan (Stacie) Berg, Brett (Tara) Berg, and Nicolle VanBrunt, two brothers, Rod (Connie) Berg, and Ronnie (Joanne) Berg, as well as numerous grandchildren and great grandchildren. Memorials may be made to The Cornerstone Community Church or Catch-a-Dream Foundation in care Davis Funeral Home, 2203 W. Main, Riverton, WY. 82501 On-line condolences for the family may be made at theDavisFuneralHome.com.