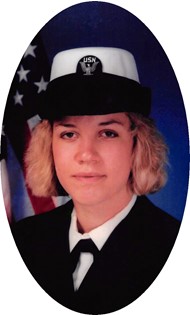 Robin Huelle
Aug 28, 1969 - May 9, 2016
Robin Elaine Huelle, 46, of Riverton died at her home on Monday, May 9, 2016, due to complications of Ehlers-Danols Syndrome. A viewing will be on Friday, May 13, 2016 from 5:00 pm to 7:00 pm at Davis Funeral Home and Saturday, May 14, 2016 from 9:00 am to 10:00 am at the United Methodist Church. The Celebration of Life will be held at the United Methodist Church on Saturday, May 14, 2016, at 10:00am.

Robin Elaine Anderson was born on August 28, 1969 in Riverton, WY to Richard Bryce and Shirley Nadean (Haggerty) Anderson. She attended schools in Shoshoni, graduating with the class of 1987. After graduation she went to New York to work as a nanny for 9 months before joining the U.S. Navy where she served for 4 ½ years before being honorably discharged. When she came back to Shoshoni after her military service, she attended Central Wyoming College where she was in the nursing program and at the same time was taking on-line courses from University of Wyoming.

On January 18, 2003, she married Chris Huelle in Riverton. Together they have a beautiful daughter born on August 25, 2005, they named her Jerikah.

During her medical career she worked at two different nursing homes, 10 years at Riverton Memorial Hospital both in the ER and ICU. She was also a house supervisor.

She enjoyed taking care of her yard, working on the farm, traveling, and family dinners.

She is survived by her husband of 12 years, Chris Huelle; daughter, Jerikah Huelle; mother, Shirley Anderson; brother, Blaine Anderson; a very special niece, Shanelle Anderson; father-in-law and mother-in-law, Jerry and Cindy Huelle; brother-in-laws, Matthew Huelle, Myron Huelle, and Larry Huelle; sister-in-law, Velma Huelle; and numerous aunts, uncles, and cousins.

She was preceded in death by her father, Richard Anderson; grandmother, Vivian; and grandparents, Ivan and Gerry Haggerty.

On-line condolences may be made to the family at www.TheDavisFuneralHome.com.

Memorials may be made to the Elhers-Danols Foundation in care of Davis Funeral Home, 2203 West Main Street, Riverton, WY 82501. Services under the direction of Davis Funeral Home.