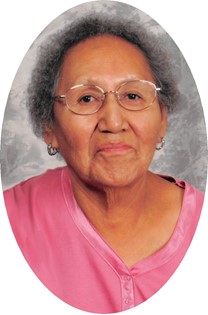 Pauline Lincoln
Nov 2, 1939 - May 31, 2016
Pauline Lincoln, her Indian name was Ho3o Cebsei (Walking Star) 76, of Riverton, died at Sage West Hospital – Riverton, on Tuesday, May 31, 2016. A rosary will be recited at 7:00 pm on Sunday, June 5, 2016, at 43 Oberg Lane. The funeral service will be at 10:00 on Monday, June 6, 2016, at St. Stephen's Catholic Church with Father Phil Wagner officiating. Burial will follow at Arapaho Catholic Cemetery in St. Stephen's.

Pauline Margaret LittleAnt was born on November 2, 1939 in St. Stephen's WY to Lawrence and Rena (Redman) LittleAnt. She attended school in St. Stephen's, Flandreau Indian School and also earned her Associates of Arts Degree from Central Wyoming College.

She was baptized into the Catholic faith and attended St. Stephen's Catholic Church.

On July 21, 1962 at the St. Stephen's Catholic Church she married her husband of 49 years, Leroy Lincoln. He preceded her in death in March of 2012. For a short time after they were first married they lived in Canton, OK. They came back to the Wind River Reservation and made their permanent home on Oberg Lane where they raised their family.

She worked for St. Stephen's Indian School as both a receptionist and a teacher's aide.

She served on the Northern Arapaho Pow Wow Committee.

She enjoyed beading, going to the casino, and attended many Pow Wow's. Above all she loved being with her grandchildren and great grandchildren.

She is survived by her sons, Gary Lincoln and his wife, Valarie and Byron Lincoln; daughter, Camille Lincoln; brother, Patton Brown; sister, Joanne Little; her grandchildren, Kayla Lincoln, Caitlin Fast Horse, Jared Lincoln, Anita Lincoln, Terrence Lincoln, Jenelle Reyes, Veronica Reyes, Breanna Lincoln and Shannon Washakie; nieces, Antoinette Harris, Irene Denny, Nora Tabaho, and Sandra Faust; nephew, Larry Makeshine; and 18 great grandchildren.

She was preceded in death by her parents, Lawrence and Rena LittleAnt; husband, Leroy Lincoln; daughter, Juanita LaFromboise, sister, Frances Makeshine; brother, Noble Little; grandchildren, Lawrence Lincoln and Ellica LaFromboise; and great grandchild, Ayala Goodleft.

On-line condolences may be made to the family at www.TheDavisFuneralHome.com.

Services under the direction of Davis Funeral Home.