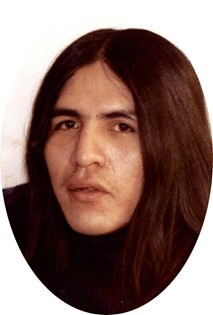 Robert Durgin
Oct 27, 1955 - Jun 16, 2016
Services for Robert "Bobby D." Ronald Durgin, 60, will be held 10:00 a.m., Wednesday, June 22, 2016 at St. Stephens Catholic Church with Father Phil Wagner officiating. Interment will follow at the Arapaho Catholic Cemetery. A Rosary will be recited 7:00 p.m., Tuesday, June 23rd at #6 Riverton Oilfield Road with a wake to follow.

Mr. Durgin died on June 16, 2016 at his home in Riverton.

He was born on October 27, 1955 in Riverton, Wyoming, son of Edward and Merle (Brown) Durgin.

Bob was baptized into the Catholic Faith.

He attended schools in Millcreek, Casper, and Utah. Along with Wyoming, Bob has spent time living in California, Arizona and Oregon.

His family says that Bob enjoyed Beadwork, drawing, native crafts, playing guitar, and going to garage sales. He loved spending time with his nieces and nephews.

He is survived by his brothers, Cheyenne Durgin, Loren Durgin, Shane Durgin, Mike Durgin, and Francis Acebo; sisters, Carla Jaramillo, Shirley Lango and Eurdena Acebo; and numerous nieces and nephews.

He was preceded in death by his parents, Edward and Merle Durgin; brothers, Pat Durgin and Tommy Durgin; sisters, Rebecca Durgin and Maria Durgin; grandparents, Pedro and Ellen Garcia; and great grandparents, Hiram and Amy Brown.

On-line condolences for the family may be made at theDavisFuneralHome.com. Services are under the direction of the Davis Funeral Home.