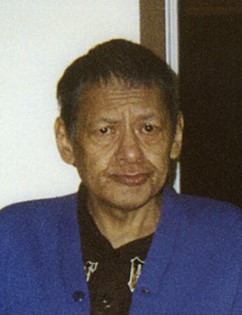 Albert John Duran
May 11, 1951 - Apr 10, 2008
Albert J. Duran, 56, of Arapahoe died Thursday, April 10, 2008 at his home. A rosary and wake will be Monday, April 14, 2008, 7:00 p.m., #30 Great Plains Loop Road. Funeral Mass will be Tuesday, April 15, 2008, 10:00 a.m., St. Stephen's Catholic Church with burial to follow at Arapaho Catholic Cemetery.

Albert John Duran was born May 11, 1951 at Fort Washakie to Thomas and Lucille Marie (Antelope) Duran. He graduated from St. Stephen's High School and attended courses at C.W.C. Albert was a life long resident of the Wind River Indian Reservation.

The family said he enjoyed listening to 60's music and playing the guitar. He also enjoyed drawing and was of the Catholic faith.

Survivors include three brothers, Eugene Duran, Paul Duran, Thomas Duran; two sisters, Karen Duran, Angela Duran Bushyhead.

He was preceded in death by his parents, Thomas and Lucille Marie (Antelope) Duran; paternal grandparents, Thomas Joe and Mary (Armajo) Duran, maternal grandparents, Eugene and Agnes (Norse) White Antelope; aunts, Angela Shakespeare, Mary Frances White Antelope, Mary Armajo Duran, Tina Duran, Genevieve Whiteplume, Marcella Ridgley, Teresa Roman; uncles, Valentine Antelope, Richard B. White Antelope, Thomas J. Duran Lincoln Mark, Jr., Johnny Duran, Alfred Duran; nephews Thomas Matt Madrid and Lincoln Mark, Jr.; niece Tina Marie Duran; cousins, Justina and Dallas Shakespeare.

On-line obituaries are available and condolences for the family may be made at: thedavisfuneralhome.com.

Services are under the direction of the Davis Funeral Home.