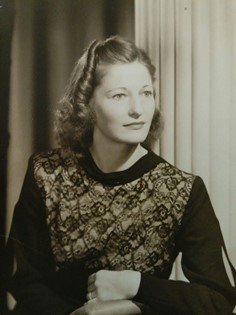 Anneliese Burroughs
Jul 26, 1923 - Aug 7, 2016
Anneliese (Konigsberger) Burroughs, 93, of Lander died Sunday, August 7, 2016, at her home. A memorial service will be held on Tuesday, August 16, 2016, at the Lander Church of Christ at 10:00 am with Pastor Dustin Campbell officiating.

Anna Elisabeth Konigsberger was born July 26, 1923 in Augsburg, Germany to Josef and Antonie (Dehler) Konigsberger. She grew up in the countryside below the Alps. Growing up she enjoyed being outside, gardening, sewing, crocheting, hiking, cooking, and being around animals She attended a Catholic School in Augsburg where she traveled by train daily from her small village of Welden. When World War II started she served her country as a nurse.

She met her future husband, Harold J Burroughs, walking along a lake where he watched over an American Air Corps officer's family. The couple married June 20, 1948 in Staten Island, NY. She completed her US Naturalization on December 12, 1952.

She worked as a clerk in New York City, NY while living on Staten Island. After retiring they moved back to Germany in the early 1980's and stayed there until moving to Lander, WY in 1992. They returned frequently to Germany, and even in her 80's she was still hiking in the Alps. Fitting as her family name means "Kings Mountain", of which she was very proud. She lost her husband in 2012 and stayed in Lander until her passing.

Anneliese loved gardening, a passion she kept from her childhood in Germany. She and Harold had a beautiful garden at their home in Staten Island and when the moved they had one at their apartment in Germany. At 90 years old she could still be found up at sunset and out again at dusk tending her yard and flower gardens at her home in Lander.

She is survived by her brother, Josef Konigsberger of Munich Germany and cousins Erich and Ursula Dehler of Germany.

She was preceded in death by her parents, Josef and Antonie Konigsberger; husband, Harold J. Burroughs; brother Anton Konisberger and sister, Alfreida Konigsberger.

On-line condolences may be made to the family at www.TheDavisFuneralHome.com.

Arrangements under the direction of Davis Funeral Home.