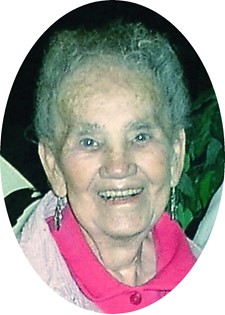 Eileen Urbigkeit
Mar 29, 1929 - Sep 21, 2016
Eileen Urbigkeit, 87, of Crowheart died on Wednesday, September 21,2016, at the Wyoming Medical Center in Casper. Cremation has taken place and a service is scheduled for Saturday, October 8, 2016, at the Crowheart Fire Hall.

Wilma Eileen Landers was born in Denver, CO on March 29, 1929 to Floyd and Ora (Marrs) Landers. She grew up and attended schools in Denver, CO. She was one of four children.

She was a member of the Mt. Calvary Lutheran Church in Dubois and had been attending and playing the organ at St. Helen's Episcopal Church in Crowheart.

When she was a young she spent summer's visiting her aunt's ranch in the Crowheart area and this is where she met her husband of 66 years, Ralph Urbigkeit. They were married on August 1, 1948 in Denver, CO. The made their home on the Urbigkeit homestead where they raised their four children. Ralph passed on March 8, 2015 and she remained on the homestead until her death.

She was a sheep rancher on the same homestead that her husband was a cattle rancher. They worked very well together over the years helping each other out both on and off the ranch. Although she was a full time mother and sheep rancher she still found time to be involved in her community. She was on the Fremont County Museum Board and also on the Predators Board for Fremont County, she was a teacher's aid at the Crowheart School, a lifelong 4-H Leader, and an election judge for over 60 years.

She enjoyed sewing and cooking for her family and friends. She made trips to Ireland and Missouri researching her family genealogy and had written books on the family history. An interesting fact in one of her books is that her mother was a twin and her father was a twin, and following "family tradition" she has three sets of great grandchildren twins. Her family said that she was a "die hard" Denver Bronco fan very seldom missing televised game. Above all she loved her grandchildren and great grandchildren.

She is survived by her children, Dale Urbigkit, Rusty ( Kathy Knowles) Urbigkit, Rosemary Urbigkit, and Nancy (Jerry Reed) Urbigkit; five grandchildren; 15 great grandchildren; niece, Anna Colstrip; nephew, Ron Landers; and numerous in-laws, and outlaws.

She was preceded in death by her parents, Floyd and Ora Landers; husband, Ralph Urbigkeit; grandson, Jacob Reed; two brothers; and an infant sister.

Memorials may be made to Crowheart Fire Department in care of Davis Funeral Home, 2203 West Main Street, Riverton, WY 82501.

On-line condolences may be made to the family at www.TheDavisFuneralHome.com.

Arrangements under the direction of Davis Funeral Home.