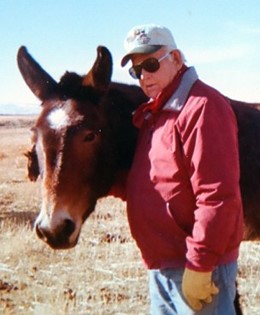 William J. "Andy" Andersen
Mar 28, 1932 - Nov 5, 2016
William J. "Andy" Andersen, 84 of Pavillion died at his home on Saturday, November 5, 2016. A memorial service will be held at a later date.

William Joseph Andersen was born on March 28, 1932 in Gordon, NE to Peter Scoe and Blanche (Hayes) Andersen. He was the youngest of nine children raised on the family ranch in the Sandhills of Nebraska. He attended a country school on the family ranch and High School in Gordon. He enlisted in the United States Navy at the age 18, serving in the Korean War from 1950 until 1954. He was Honorably Discharged and returned to the Nebraska area. He earned the nicknames of "Andy" and "Joe" early in his life and answered to both.

He was a baptized Christian and a true believer.

He made his way to Wyoming where he worked at U.S. Steel for 23 years. After the closure of the steel mill he became a full time rancher, raising both horses and cattle. Since he was a young man his passion was working with horses and trading them. He enjoyed working with horses learning their qualities in order to make the best possible trade for all involved.

On December 13, 1984 he married Anne T. Gwiazdowski. They made their home in Pavillion where they had their ranch. They resided on the J-A Ranch on West Pavillion Road.

He enjoyed country and gospel music, driving his horses in parades and for local school events.

He is survived by his wife of 31 years, Anne Gwiazdowski; son, Wesley Andersen of Lander, WY; daughters, Sherrie West and her husband, Arnie of Lander, WY and Debbie Hawkins and her husband, Andy of Mesquite, NV; granddaughters, Tara Shalata and her husband, Jason of Rock Springs, WY, Trisha West and companion, Courtney Derby of Lander, WY, Melissa Bates and her husband Josh of Rock Springs, WY, and Jennifer Green and her husband, Jeremy of Arvada, CO; and great grandchildren, Jaylee, Allison, and Bryant Shalata, and Parker Bates.

He was preceded in death by his parents, Peter and Blanche Andersen; brothers and sisters, Jim, Nell, Maude, Andrew, Betty, John, Lora, and Mary Ann; beloved pets, Dizzy and Sadiee; and loved horses, Poncho, Roanee, and Derby Rose.

Memorials may be made to St. Joseph's Catholic Church, PAWS for Life or Pet Connection in care of Davis Funeral Home, 2203 West Main Street, Riverton, WY 82501.

On-line condolences may be made to the family at www.TheDavisFuneralHome.com.

Arrangements under the direction of Davis Funeral Home.