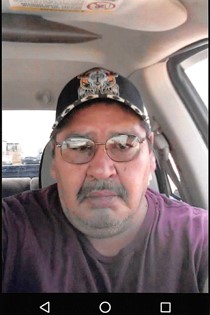 James Goodman
Nov 27, 1962 - Dec 4, 2016
James Goodman, 54, of Riverton, died at the University of Colorado Hospital in Denver, CO on Sunday, December 4, 2016. A rosary will be recited at 7:00 pm on Friday, December 9, 2016, at Great Plains Hall. A wake will follow at 1613 17 Mile Road. The funeral service will be at 10:00 am on Saturday, December 10, 2016, at St. Stephen's Catholic Church. Burial will follow at the Arapaho Catholic Cemetery.

James Edward Goodman was born on November 27, 1962 in Riverton, WY to John and Donna (Brown) Goodman. He grew up on the Wind River Reservation and graduated from high school from Wyoming Indian High School. He later attended Casper College and lived in Casper for approximately two years.

He was baptized into the Catholic faith.

He worked in the oilfields most of his life, the Ramkota in Casper, delivered Meals on Wheels, Yeats Construction, and was asupervisor of housekeeping at the Wind River Casino.

He enjoyed playing bingo, going to the casinos, watching basketball games, watching the Denver Bronco's play, spending time with his grandchildren, and joking with family and friends. He always had a nick name for everyone he met.

He is survived by his children, Therese (Johnny) Roberts, Mallorie (Brett) Martel, Travis "Rambo" Warren, Jamie Goodman, James (Jayshawna) Goodman, Jr., and John Goodman; brother, Darrell (Cami) Goodman; sisters, Becky Kuka, Brenda Goodman, Elizabeth (Shawn) Antelope, and Arlene Goodman; nephews, Edward (Lina) Raigosa, Lenny (Samantha) Raigosa, Winn Baker Goodman, Winter Hawk Goodman, and Andre Goodman; nieces, Jolene Brown, Tashina Goodman, Nicole (Joshua) Rosenberger, and Margaret Goodman; uncles, Darrell, William Jay, and David "Crocky" Lonebear, Melvin Littleshield, Sr., and Michael Dale Blackburn; aunts, Charlotte Lonedog, Violet Lonebear, Lynda Noah, Melody Spoonhunter, Debbie Jenkins, Rose Guerue, and Francis Dewey; 14 grandchildren; and extended families of, Littleshield, Bushyhead, C'Bearing, Washington, Lonebear, Brown, Willow, Felter, Redman, Warren, Jenkins, Sage, and Valdez.

He was preceded in death by his parents, John and Donna Goodman; grandparents, William and Ione (Hatten) Lonebear, William and Elizabeth (Goodman) C'Bearing; aunts, Margaret Littleshield and Jenni Lonedog, uncles, Linus C'Bearing and Richard Lonedog; brother, Steven L. Moss; brother-in-law, John Kuka; cousins, William C'Bearing, Michelle Littleshield, Stephanie Spoonhunter; nieces, Camille Goodman and Winter Rose Jenkins; nephews, Theodore Raigosa, and Bryan Jenkins; and grandsons, Carlos Goodman and Darrell J. Hanway.

On-line condolences may be made to the family at www.TheDavisFuneralHome.com.

Services under the direction of Davis Funeral Home.