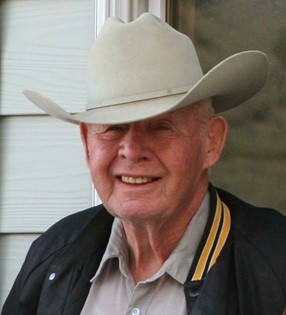 Andy Peterson
Oct 13, 1923 - Dec 11, 2016
Andy Peterson, 93, of Riverton, died on Sunday, December 11, 2016, in Casper at the Poplar Living Center. A memorial service will be held at 10:00 am on Tuesday, December 20, 2016, at Davis Funeral Home. Inurnment will follow at Mountain View Cemetery.

Andy Mark Peterson was born on October 13, 1923 in Mason City, NE to Alfred Martin and Laura Christine (Neilson) Peterson. He and his siblings grew up on the family farm and attended school in Mason City, NE. In 1941 the family moved to Riverton where they continued to farm.

Andy served in the U.S. Army during WWII. He was honorably discharged and returned to Wyoming.

On November 28, 1947 he married Mildred Louise Frohbieter in Rawlins, WY. Together they raised their family on their farm outside of Riverton.

He worked as a water engineer for NRCS for many years, retiring from that position. While working he still ran the ranch and farmed.

Working the ranch was more of an enjoyment than work. He enjoyed raising and training Appaloosa Horses.

He is survived by his sons, Randy Jay Peterson and Jack Hugh Peterson; daughters, Patricia May Snelling-Weiner and Gay Lynn Peterson; brother, Bryce Peterson; sisters, Hazel Peterson, Fern Young and Erma Young; and many grandchildren.

He was preceded in death by his parents, Alfred and Laura Peterson; wife, Mildred Peterson; and relatives, Paul Peterson, Miles Peterson, Louis Peterson, and Mildred Frohbieter.

On-line condolences may be made to the family at www.TheDavisFuneralHome.com.

Services under the direction of Davis Funeral Home.