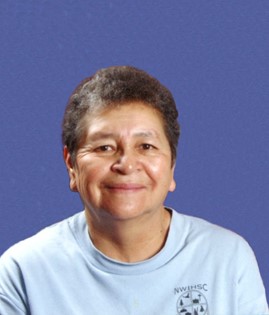 Amelia Shakespeare
May 25, 1945 - Dec 18, 2016
Amelia M. Shakespeare, 71, of Arapahoe, died on Sunday, December 18, 2016, at Sage West- Riverton Hospital. A rosary will be recited at 7:00 pm on Wednesday, December 21, 2016, at St. Stephen's Catholic Church, a wake will follow at Great Plains Hall. The funeral service will be at 10:00 am on Thursday, December 22, 2016, at Great Plains Hall with burial to follow at the Arapaho Catholic Cemetery.

Amelia Marie Goggles was born on May 25, 1945 in Riverton, WY to Michael Goggles Jr. and Genevieve (Duran) Whiteplume. She grew up in the Arapahoe and Hamilton dome area as well as Riverton, WY.

She was baptized into the Catholic faith and attended St. Stephen's Catholic Church faithfully.

She married Odell Shakespeare on May 22, 1985 in Lander, WY. They made their home in Riverton, then Arapahoe.

She worked as a cook for the Arapahoe Headstart Program for over 18 years.

She was a member of the Parrish Council at St. Stephen's Catholic Church and also a member of the Eagle Society of the Northern Arapaho Tribe.

Amelia enjoyed dancing at pow-wows with her grandchildren and was known for her contagious laughter.

She is survived by her children, Nellie Shakespeare, James "Cy" Lee (LaCreda), Gaylen Littleshield and wife, Shawna, Fredrick "Fergie" Littleshield, Dallas Littleshield, Brian "Beans" Littleshield, and Dominic Littleshield and Claudia Jenkins; brothers, Teddy Goggles and Adolph Whiteplume; sisters, Kathleen L. Whiteplume and Lura Whiteplume; 19 grandchildren; 15 great grandchildren; and her beloved dog, Diamond. Also including the Whiteplume family, Brown family, Shakespeare family, Duran family, and Rodriguez family.

She was preceded in death by her parents, Michael Goggles, Jr. and Genevieve Whiteplume; and her grandparents, Joe and Mary Duran.

On-line condolences may be made to the family at www.TheDavisFuneralHome.com.

Services under the direction of Davis Funeral Home.