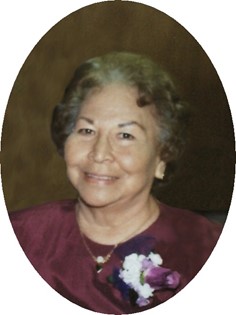 Mildred Anna Warren
Jan 28, 1937 - May 23, 2008
Funeral services for Mildred Anna Wolfrang Friday Warren, 71, will be held 10:00 a.m., Wednesday, May 28th at St. Stephen's Catholic Church with Father Dan Gannon officiating. A rosary will be held 7:00 p.m. Tuesday, May 27th at the family home, 289- 291 Ethete Road. Interment will follow services at the Warren Family Cemetery. Arrangements are under the direction of Davis Funeral Home.

Anna died May 23, 2008 in Casper, Wyoming.

She was born January 28, 1937, in Fort Washakie, WY, daughter of Samuel Sebastian and Cecelia Beatrice Wolfrang Friday. She attended St. Stephen's Boarding School and graduated in 1952 from Gardena High School in San Bernadino, CA. She also attended Berkley University, majoring in nursing.

Anna married Raymond "Hank" Warren November 18, 1957 in Idaho Falls, ID.

Mrs. Warren was a member of the Wind River Houndsmen, Trosper & Redman Auxiliary Post 86 Ethete. She enjoyed traveling, sewing and crafts, spending time in the outdoors fishing, raising children, playing bingo and attending community events.

She worked for the State Training School, was a caretaker for the elderly in Jackson, and also worked as a cook at Ft. Washakie Jail , St. Stephens and Head Start.

Survivors include her sons, Malcolm Bowers and Michael Warren; daughters, Angela M. Warren, Jodi Brown, Kathleen Warren, Natalie Warren, Mary Killsontop, Amy A. Friday, Rhonda Bower, and Margo Williams; brothers, Phillip Friday, Leonard Friday and Irene Peahora, Edward Friday, Kenneth Friday, Everett Eagle, Sr., brothers-in-law, Charles Manderson, John Warren and Basil Warren; sisters, Caroline and Herb Bower, Roberta and Francis Whiteplume, Sr., Betty Jean Friday, and Florita S. Eagle; sisters-in-law, Catherine Friday, Geraldine Brown, Anita Portwood and Marlene Wolfrang; numerous grandchildren, 18 great grandchildren; uncles, Wallace Wolfrang, Carlos Harris and Marvin Harris; aunts, Tina Day, Florence Redman, Patsy Harris, Verna Thunder, and Caroline Goggles; and numerous nieces, nephews and other relatives.

Anna was preceded in death by her grandparents, Harry and Elizabeth Friday and Boat and Tillie Wolfrang; parents, Sam S. and Cecelia W. Friday; husband, Raymond "Hank" Warren; son, Harry Warren; aunt, Lillian S. Eagle and uncle Anthony Wolfrang, Sr.; brothers, Laurence Friday, Eugene Friday, Harold Bradford Friday, Carth E. Friday, Edward S. Eagle, Sr. and David Wolfrang; sisters, Barbara Manderson, Irene Mountain Sheep, Michelle Friday and Joyce Medicine Cloud.