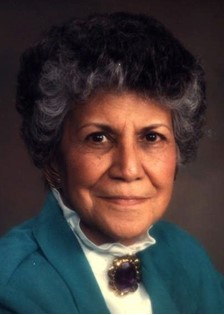 Ida H. Sisneros
Mar 8, 1923 - Jun 11, 2008
Ida H. Sisneros, formerly of Riverton, died June 11, 2008 at her home in Cheyenne. She was 85 years old.

Memorial mass will be held at 10:00 a.m. Wednesday, June 18, 2008 at St. Margaret's Catholic Church with the Rev. Father Ron Seminara officiating. A rosary will be at 7:00 p.m. on Tuesday, June 17th, at St. Margaret's.

Ida Hernandez was born in Riverton on March 8, 1923, the daughter of Joseph and Christina (Aragon) Hernandez. She grew up in Riverton and married Reynaldo Sisneros in 1948 in Riverton.

Mrs. Sisneros was a member of St. Margaret's Catholic Church.

She was a foster grandparent and a teacher's aide at Arapahoe Indian School.

The family said Mrs. Sisneros was an avid bingo player, and enjoyed doing crossword puzzles, traveling with her family and living life to it's fullest.

Among her survivors are sons Ronald Sisneros of Albuquerque, NM and Michael Sisneros of Sandstone, MN; daughters Chris Hernandez of Nashville, TN, Corinne Brawley of Cheyenne and Elizabeth Stultz of Reno, NV; brother Enez Hernandez of Riverton; sister Dorothy Cordova of Riverton; numerous grandchildren and great grandchildren.

In addition to her husband Reynaldo, Mrs. Sisneros was preceded in death by her parents; son Candido Sisneros; brothers John B. Hernandez, Eddie Hernandez, John Joseph Hernandez and Tony Hernandez; sisters Mary Gamboa, Margie Hanway and Dora Roland.

Memorial donations may be made to Davis Hospice Center in Cheyenne, in care of Davis Funeral Home, 2203 W. Main, Riverton, WY 82501.