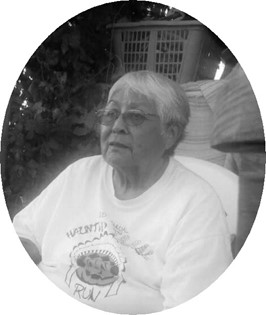 Phyllis Trosper
Jun 9, 1938 - Jan 21, 2018
Phyllis Chingman-Trosper, 79 of Fort Washakie passed away on Sunday, January 21, 2018, at St. Vincent's Healthcare in Billings, MT. There will be a prayer service held at 7:00 pm on Friday, January 26, 2018, at the Shoshoni Episcopal Mission followed by a wake at her home, 130 South Fork Road. The funeral service will be held at 10:00 am on Saturday, January 27, 2018, at Rocky Mountain Hall followed by interment at Sacajawea Cemetery.

Phyllis Lorene Chingman was born on June 9, 1938 in Fort Washakie, WY to Ernest and Florence Rose (Henan) Chingman. She was a lifelong resident of the Wind River Reservation. She attended grade school at Fort Washakie before going to Flandreau Indian Boarding School. She graduated from Fremont Vocational High School in Lander and attended Central Wyoming College.

She was of the Episcopal faith and was a member of the Shoshoni Episcopal Mission. She was active in the church as a lay reader, Sunday school teacher, and bus driver.

She raised ten children of her own but was a mother figure to numerous others. She was a 4-H leader and was also a bowler.

She was known for being the head cook at Wyoming Indian High School where she made amazing lunches that the children looked forward to for over 36 years. She had also worked as a cook for Tribal Services and Allison Sage's Café, was an assembly worker for Datel, and a lifeguard at the Plunge. She was chairman of the Eastern Shoshone Fair Board.

She always found time to enjoy her many diversified interest of doing ceramics, pottery, photography, cake making, painting, beading, wine making and loved to be a story teller.

She is survived by her sons, William Todd Tropser, Michael Shane Chingman, Glenn Hirsch, and Curley Tropser; daughters, Challis June Trosper, Leslie Kay Trosper, Freckles Trosper, Cleleste Dreamer, Reva Hill, and Gladys Chingman; brother, Gary Chingman and wife, Karen; sister, Janis Sage and husband, Byron; uncles, Joe Henan and Ben Henan; and aunt, Peggy Meyers.

She was preceded in death by her parents, Ernest and Florence Chingman; grandparents, Jacob and Gladys Henan; Ernest Jr., Charles, John, and Ben Chingman, Winterhawk LeBeau, Dean, Arlene, and Ernest R. Chingman, and Brandon WallowingBull.

On-line condolences may be made to the family at www.TheDavisFuneralHome.com.

Services under the direction of Davis Funeral Home.