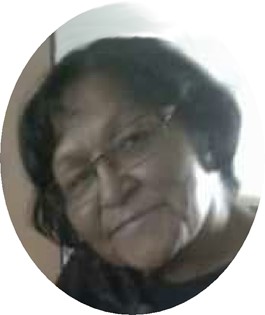 Ava Addison
Mar 26, 1961 - Feb 9, 2018
A Funeral Mass for Ava Marie Addison, 56, will be held 10:00 a.m., Wednesday, February 14, 2018 at St. Stephens Catholic Church with Father Jim Heiser officiating. Interment will follow at the Arapaho Catholic Cemetery. A Rosary will be recited 7:00 p.m., Tuesday, at Great Plains Hall with a wake to follow.

Mrs. Addison died on February 9, 2018 at the Wyoming Medical Center in Casper, Wy.

Ava was born March 26, 1961 in Riverton, Wyoming, daughter of Raymond T. Addison, Sr. and Rosaline (Brown) Addison.

She attended schools at St. Stephens, St. Margaret's, in Thermopolis, Wy and Flandreau Indian School in S.D.

In 2004, Ava married John Headley, Sr. in Lander, WY.

She most recently worked as a housekeeper at the Casino and was a caretaker for her grandchildren. Ava enjoyed playing the machines at the Casino, attending garage sales, spending time with her grandchildren and helping out her family any way she could. She was a member of the Catholic Church and enjoyed taking part in her Native American Traditional ways.

Survivors include her companion, John Headley, Sr., sons, Lionel Bell, Jr., John Headley, Jr., Stephen Headley and Shawn Headley; daughters, Loveda Bell, Ladine Headley and Faline Headley; son-in-law, Patrick Wallowingbull, Sr.; brothers, Raymond T.(Martha) Addison, Jr., Al Addison, Sr., Chester (Cindy) Addison, Sr., Steven Oldman, Sr. and Virgil Oldman; sisters, Polly(Kenneth) Redfield, Mary C. (Merlin) Arthur, Nora Faye Addison, Cookie Teran, Lou Oldman, Junie Friday, Bunny Monroe, Benita (Daryl) Smith, Gwen C'Bearing, Rena Brown, Alvena Aragon, Nikki Brown and Myra Brown; grandchildren, O'Ryan Bell, Tayleanna Bell, Sincere Bell, Lionel Bell, III, Justice Shine Dodge, Isaiah, Mailah and Melvin Littleshield, Patricia, Jr., Daryl, Sequoia and Raedonna Wallowingbull; uncles, Wayne Brown, Wayne Addison, Bert Addison, Roger Frazier, Pat Frazier, Al C'Bearing, and Bob C'Bearing; aunts, Eva Brown, Flossie Brown, Loraine Addison, Catherine Addison, Celia (Richard) Farley, Suzy Black Crow, Carmen Black Crow, Jean Frazier, Angie Black Crow, and Mary Ann Whiteman; nieces Antonia Hall, Jamie Carpitcher, Theresa Redfield, Sherry Groesbeck; nephews Kenny Redfield, Jr., Al Addison, Jr., Ashley Addison; sisters-in-law, Helena Baker and Annette Bell; other numerous nieces, nephews and family members. We have tried to remember and list everyone. Our apology if you were left out, it was not intentional.

She was preceded in death by her parents; daughter, Tessa Belll; sister, Linda Coley Addison; brothers, Francis Addison, Sr., Howard Addison, Sr., Thomas Addison, Sr., Floyd Addison, Sr.;nephews, Richard Redfield,Donnie Oldman, C.J. Addison, Howard Addison, Jr., Russell Oldman, Sr., Ruben Jenkins, Keith Dow Addison, Merlon Arthur and Miles Arthur; granddaughter, Teliyah Wallowingbull ; son-in-law, Pawiah Carpitcher, Sr.; niece, Kathy Rose Addison; grandparents, Joe and Myra Brown; aunts, Maria and Larry Oldman and Bernice C'Bearing.

On-line condolences for the family may be made at theDavisFuneralHome.com. Services are under the direction of the Davis Funeral Home.