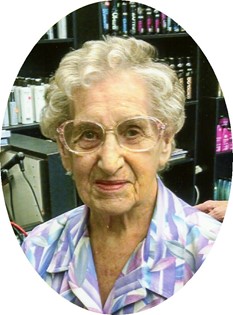 Betty Lou Sage
Jan 5, 1927 - Apr 9, 2018
Betty Lou Sage passed away April 9, 2018 at her home in Riverton surrounded by her loving family, at the age of 91. At her request she was cremated and no services will be held. She was born January 5, 1927 in Idaho Falls, Idaho to Jack L. and Mabel (Clark) McClaskey, Sr. She was one of six children raised in Idaho. She married Robert Edward Sage December 31, 1945 in San Francisco, California. They were married for over 55 years before Robert passed in 2001. Their raised their family in Dubois where they lived for fifteen years before moving to Hudson where she lived for over 34 years. She moved to Riverton to be closer to family in 2017. The most important thing in her world was spending time with her family and friends which she loved dearly. She also loved to read and was a member of several monthly book clubs. She also enjoyed collecting stamps and coins in her spare time along with rock hunting and fishing. She loved her houseplants and by the number of healthy plants she had, you could say she had a "green thumb".

She is survived by a son Robert D. Sage and Gertie; daughters Judy L. Heller and husband LaVern, Barbara J. Lorentzen and husband Rodney, Debra D. Clarke and husband Don; brother, Kenneth McClaskey and wife, Barbara;10 grandchildren, 24 great grandchildren,5 great-great grandchildren and numerous nieces, nephews, and cousins.

She was preceded in death by her husband, an infant daughter, mother, father, 2 brothers and 2 sisters.

Arrangements under the direction of Davis Funeral Home.