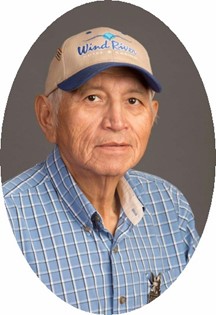 Norman Willow
Apr 28, 1953 - May 2, 2018
Funeral services for Norman Paul Willow, Sr., 65, will be held 10:00 a.m., Monday, May 7th, at St. Stephen's School Teepee Dome with Father Bob Frederick. Interment will follow at Tyler Cemetery. The feast will be held after the graveside service at 4:00 p.m. at Blue Sky Hall. A Rosary will be recited at 7:00 p.m., Sunday, May 6th, at St. Joseph's Catholic Church with a wake to follow at the Willow family home, 577 Blue Sky Hwy in Ethete, WY.

Mr. Willow died on May 2, 2018 at his home in Ethete surrounded by his loving family and friends.

He was born on April 28, 1953 in Fort Washakie, Wyoming, son of John Earl Willow, Sr. and Lucy Ann (Redman) Willow. Norman grew up on the Wind River Indian Reservation, attending St. Stephen's Indian School and Lander Valley High School, where his team won the state cross country. When Norman was only 17 years old he enlisted in the U.S. Army Air Borne, serving from 1971 until he was honorably discharged in 1974.

September 30, 1977, Norman married the love of his life, Sarah Ann Blackburn in Riverton, Wyoming.

Mr. Willow worked as a custodian at the St. Stephen's School before becoming a bus driver. He then worked for 1 summer for the Neighborhood Youth Corp. He also served as a Catholic Youth Councilor, drove truck for Transystems, Inc.; worked as a Heavy Equipment Operator for B.I.A., Union Carbide, Oftedal and Majors Equipment.

Mr. Willow served for many years on the Northern Arapaho Business Council, the Arapaho and St. Stephens School Board, Catholic Youth Organization, Blue Sky Warriors Relay for Life as well as Eagle Staff Runners, and St. Kateria making a pilgrimage to New York. Norman was an active member of the Catholic Church.

He enjoyed traditional dancing, making ceremonial pipes and participating in traditional ceremonies. He loved spending time with his grandchildren, working with youth and helping his fellow people.

Survivors include his wife of over 40 years, Sarah; sons, Norman Paul Willow, Jr., (Emery'l LeBeau), Louis Whiteplume (Jennifer Moss); adopted sons, Jakota Wolfname, Kale Ferris, Gentry Blackburn, Garrett Blackburn and Trenton Friday; daughters, DesiRae Dawn Willow (Kenneth V. WallowingBull, Jr.), Amarius Swallow (Dan), adopted daughters, Marti Roman, JaVonn Lynch, Carmella Lynch, Rachelle "Lil Bit" Lynch, Achareya Friday and Shine Black; brother, John Earl Willow, Jr.; sisters, Eloise Stewart, (Stacey Stewart), Margaret Willow, Joan Willow, Linda Willow, Veronica Addison (Dominic), Christine Willow, (Warren Niedo); sister-in-law, Melody Blackburn and John St. Clair, Melissa Kane, Ronnie Kane, Sandra Little Whiteman; grandchildren, Malcolm Whiteplume, Shawn Whiteplume, Brandon Whiteplume, Kimora, Kekoa, Kenzo, and Kenneth WallowingBull, Jacob LeBeau, Noah Red Willow and Ava Red Willow; Redman, Underwood, Tyler, Willow, Hungary, Shakespeare, Friday, Oldman, Goggles.

He was preceded in death by his father, John E. Willow, Sr., daughter, Kellie Nicole Willow, brother, Kenneth Delbert Willow; son, Elton Francis Whiteplume; granddaughter, Aspen ShaiRai WallowingBull; John E. Willow, III, Arlya C. Willow, Josephine "Jocee" L. Stewart, April R. Lincoln, Bryan E. Willow, Marisa C. Spoonhunter and Jessica Brown.

On-line condolences may be made to the family at www.TheDavisFuneralHome.com. Services are under the direction of Davis Funeral Home.