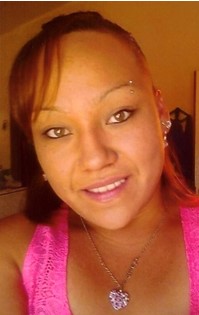 Jenice Meeks-Brown
Nov 17, 1990 - Jun 25, 2018
Funeral services for Jenice Dunelle Meeks-Brown, 27, will be held at 10:00 a.m., Monday, July 2, 2018 at St. Stephen's Catholic Church with Father Bryce Lungren officiating. Interment will follow at Chief Washakie Cemetery in Fort Washakie, WY. A Rosary will be recited at 7:00 p.m., Sunday, July 1st at #89 Gas Hills Road with a Wake to follow.

Ms. Meeks-Brown passed away June 25, 2018 at her home among family and friends.

Jenice was born November 17, 1990 in Lander, WY, daughter of the late Louis Meeks, Jr. and Wanda Spoonhunter. She was raised on the Wind River Reservation by her grandmother, Melody Spoonhunter.

She attended schools at St. Stephens and Lander Valley High School.

She enjoyed playing basketball, liked to go fishing and spending time outdoors. She also loved spending time with her family and was a loyal Denver Broncos fan. While employed at the Maverik Store, Jenice made many friends and enjoyed helping people in any way she could. She participated in the Native American Indian ways and ceremonies.

Survivors include her son, Jeffery Jacob Brown; daughter, Precious Stiffarm; husband, Vincent Brown, brothers, Derek (Stephanie) Meeks, Devin (Polly) Meeks, Louis Meeks, III, Nathan Yellowbear, Irevin Spoonhunter, Joshua J. BigMedicine, and Alex Posey; sisters, Gail Sage, Nicole Aragon, Darian & Daelynn SunRhodes, Nicole Goodman Rosenburger, Tashina Goodman, Margaret Goodman, Kristi & Kimberly Potter, Tesha & Shaylee Underwood and Charity Barajas; grandparents, Rosie Guerue, Violet Carlson, Tillie Jenkins, Debra Jenkins, Lynda Munnell, Charlotte Lonedog, Alrita TalksDifferent, Felicia Whiteman, William J. LoneBear, Darrell Lonebear, Rebecca Kuka, David LoneBear, Sr., Marlin, Theron and Harvey Spoonhunter; aunts, Ruby Goggles, Leslie Sixtoes, Cherokee O'Neal, Arline, Brenda & Liz Goodman, Kathy & Irene Jenkins, Julian & Madelyn Standing Elk, Ione Jenkins, Colleen, and Wanda Posey; uncles, Darrell Goodman, Wayland Munnell, Elk Sage, Allison Sage, Nelson Sage, Ira Jenkins, Ben Brown, Jr., David & Young Chief LoneBear, Adrian, Sunman, Cole, Tyson LoneBear; nieces and nephews, Stefan Meeks, Christine Meeks, Acacia Meeks, and Loahnezz Meeks.

She was preceded in death by her father, Louis Meeks, Jr., son, Jacob Meeks and nephew, Derrick J. Meeks, Jr.

On-line condolences for the family may be made at theDavisFuneralHome.com. Services are under the direction of the Davis Funeral Home.