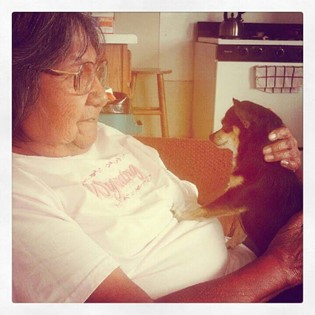 Anita Oldman
May 5, 1939 - Aug 12, 2018
Anita Louise Blake Oldman, 79, of Arapaho passed away peacefully, surrounded by family at her lifelong home on Sunday, August 12, 2018. . A rosary will be recited at 7:00 pm on Wednesday, August 15, 2018, at St. Stephen's Catholic Church followed by the wake at 1557 17 Mile Road. The funeral service will be at 10:00 am on Thursday, August 16, 2018, at St. Stephen's Catholic Church with burial to follow at the Arapaho Catholic Church.

She had recently battled and survived cancer.

Anita Louise was born on May 5th, 1939 in Fort Washakie, WY to Andrew Gustave Blake and Ruth Goggles. She grew up in the St. Stephens/Arapaho area and attended St. Stephens Indian school where she graduated high school and spent her life being a homemaker and raising her children.

She was a member of the Roman Catholic faith and was a lifelong communicant of St. Stephens Catholic Church while also holding reverence for traditional Northern Arapaho ceremony.

In March of 1960 she married William Patrick Oldman. Together they had three children; Donald Dean Oldman, Donna Patricia Oldman, and Ruth Marieta Oldman.

Anita Louise was the heart and soul of her family. She loved family get-togethers and would often insist on either Sinks Canyon or Wind River Canyon for the location. She enjoyed reading books, magazines, and watching old movies. She enjoyed going to powwows and Sundance. She was a native speaker of the Arapaho language. Most of all she loved spending time with her spouse, children, grandchildren, and great grandchildren.

She is survived by her son, Donald (Roberta) Oldman; daughters, Donna (Merlin) Norah, and Ruth (Leonard Jr.) Moss; grandsons, Robert Oldman, Derrick (Misty) Oldman, Christopher Norah, Reland Littleshield Jr., and Joey Littlebird; granddaughters, Donelle Warren, Andrea (Thunder) Warren, Megan (Daniel) Oldman, Angel (Orrin) Gardner, Shanoah Gardner, and Rachel and Anastasia Norse; Great-grandsons, Gabriel Jessepe, Sumner Oldman, Andrew and Daniel Warren Jr., and James and Jasper Spoonhunter; Great-granddaughters, Kaylei and Arianna Oldman, Casey Stites, Aloysia Warren, Jurnee Jessepe, and Machelle Oldman; niece, Cheryl (Myron) Littlebird; Survived also by, Alice and Leonard Moss, Sr. and Elsie Norah; Friends like family, Kari Honyaoma, and Melissa Littleshield; Spiritual leader, George Moss, Sr. and helper; and the families of Blake, Dodge, Goggles, and Littleshield, brother, Owen Goggles.

She was preceded in death by her parents, Andrew and Ruth Blake; grandparents, Sumner and Gertrude Sleeping Bear Blake; uncle, Timothy (Eva) Goggles; aunt, Dorothy (Frank) Goggles; sisters, Catherine Dodge, Teresa Littleshield, Bernadine Friday, Ursula Brown, and Gertrude Goggles; brothers, James Blake, and Albert Dodge, Sr.; Grandson, Baby Linus Oldman; and her faithful little chihuahua, Princess.

On-line condolences may be made to the family at www.TheDavisFuneralHome.com.

Services under the direction of Davis Funeral Home.