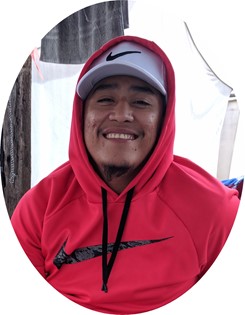 Johnnie Whiteman
Oct 13, 1996 - Sep 4, 2018
A Funeral Mass for Johnnie De'Carlos Whiteman, 21, will be held at 1:00 p.m., Saturday, September 8, 2018 at St. Stephen's Catholic Church with Father Bryce Lungren officiating. Interment will follow at the Arapaho Catholic Cemetery. The first Rosary will be recited at 7:00 p.m., Thursday, Sept. 6th at Davis Funeral Home with a wake to follow at 109 Sagebrush Loop, Beaver Creek Housing. A second Rosary will be recited at 7:00 p.m., Friday, September 7th at Great Plains Hall with a wake to follow at Rose and Dennis Bearing's residence, 444 Little Wind River Bottom Road.

Mr. Whiteman died on September 4, 2018 at Sagewest Hospital in Riverton, Wyoming.

Johnnie was born on October 13, 1996 in Fort Cambell, Kentucky, son of Zachery John Whiteman and Charlie Marie Bearing.

He grew up in St. Stephens and Arapahoe, graduating from St. Stephens High School in 2015.

Mr. Whiteman was a baptized member of St. Stephen's Catholic Church.

He enjoyed attending Pow Wow's, listening to music, and spending time with his friends and family, especially his older brother, Andrew. Johnnie was also known for his love of the outdoors, hunting, fishing and camping.

Survivors include his parents, Zachery Whiteman and Charlie Bearing; Uncle/Dad Dominic Littleshield; brothers, Andrew and Modesta Bearing and their children, Baby Drew and Andrea (who Johnnie had taken as his own), Wyatt Fletcher, Christian Moss and Terrance Lonebear; sisters, Mia Moss, Caden Madrid, Azaria Chippewa, Marina Whiteing, Azacia Chippewa, Euleena Lonebear and Eujeena Coal Bear; extended families of Whiteman, Bearing, Trumbull, RunsBehind, Behan, White Antelope, Addison, Fletcher, O'Neal, Spoonhunter, C'Bearing, Littleshield, Harjo, Tillman, Lawson, Warren, Brown, Sanehez, Quiver, Oldman, C'Hair, Moss, Kingfisher, Armajo, Goggles, Najera, Potter, Decotau, Friday, Oldman, and Nelson.

He was preceded in death by his grandparents, Eugenia C'Bearing, Dudley C'Bearing, Sr., Gabriel Friday, Bennie Oldman, Dennis and Rose (Potter) Bearing, Amelia Shakespeare, Felix and Loralee Whiteman, Mary Kate Behan, Thomas Underwood, Frank Armajo; uncles Adrian C'Bearing, Daniel C'Bearing and Kenny Whiteman.

On-line condolences for the family may be made at theDavisFuneralHome.com. Services are under the direction of the Davis Funeral Home.