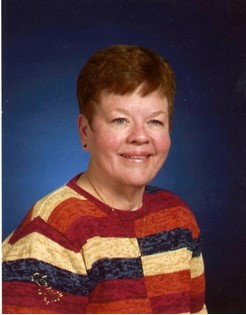 Lesta Esser
Jan 27, 1946 - Sep 4, 2018
Lesta Esser, 72, of Riverton passed away peacefully Tuesday, September 4, 2018, at her home. Memorial services will be 2 p.m., Friday, September 7, 2018, at the United Methodist Church with a reception to follow in the Fellowship Hall. Lesta Nan Freeman was born January 27, 1946, in Hardtner, Kansas, to Orville Murray and Mary Esther (Phillips) Freeman. She grew up in Medicine Lodge, Kansas, graduating in 1964. She attended one year at Kansas State University, transferring to cosmetology school in Hutchinson, Kansas. She married her high school sweetheart, Robert Allen Esser, on September 1, 1966, in Lake City, Kansas.

Lesta, her husband Bob and three-month-old daughter Robyn moved to Riverton in 1971 in a snowstorm. Lesta worked at Ashgrove School in Riverton for many years. She worked with Brenda Masters. Her family said she enjoyed taking care of her family, cooking, shopping, camping - and most of all, watching her grandsons' activities. She was a huge Mickey Mouse fan and loved taking trips to Disneyland and Disney World with her family. She was a member of the United Methodist Church, and she was initiated into PEO Chapter H, and later transferred to Chapter AZ.

She is survived by her husband, Robert "Bob" Esser; son, Justin Esser (Whitney Mathern) of Cody, WY; daughter, Robyn Beers (Cody) of Riverton and their children, Brady Kelvie Beers and Baylor Justin Beers and fiancé Hally Milleson; brother-in-law, George Esser (Judy) and children Stacy Pollart (Matt) and Jayna Smith-Flores (John) and their families; the Workman family of Kansas; grandson Ivar Lundby of Bardufoss, Norway; and numerous special friends. She was preceded in death by her parents, Orville "Guy Guy" and Esther "Granny" Freeman, and her parents-in-law, Allen and Myra Esser. Memorial contributions can be made to Camp Hope in care of Davis Funeral Home, 2203 W. Main Street, Riverton, WY 82501. Camp Hope's primary focus is on the emotional and psychological aspects of diabetes in young people.

On-line condolences may be made to the family at www.TheDavisFuneralHome.com.

Services are under the direction of Davis Funeral Home.