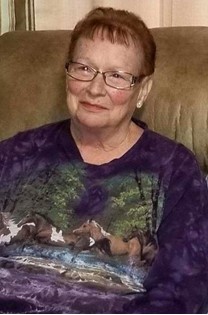 Sandra "Sandi" K. Wolf
Nov 9, 1945 - Dec 10, 2018




Sandra "Sandi" K. Wolf, 73, of Riverton passed away Monday, December 10, 2018 at the Sagewest Hospital – Riverton. A Celebration of Sandi's Life will be Saturday, May 4, 2019 from 2:00 - 4:00 p.m. at the Riverton Elk's Lodge, 207 E. Main Street, Riverton, WY 82501.

Sandra Kay Wolf was born November 9, 1945 in Ada, Oklahoma to Jessie and Leota Ann (Kinikin) Dewberry. Sandi grew up in the Grass Creek, Wyoming area and attended schools in Thermopolis and Riverton graduating Riverton High School in 1963.

On June 11, 1965 she married Marvin James Wolf in Riverton where the couple always considered Riverton their home. Together the couple traveled with his business across many states and communities retiring in 2013.

Her family said she loved her family – kids, grandkids, and great grandkids. She enjoyed hunting, fishing, wildlife and traveling.

She is survived by her husband Marvin of Riverton; two daughters, Dana Lynch of Riverton and Shawna (Breck) Taliaferro of Green River, Wyoming; granddaughters, Brittney Lynch, Hailee Lynch, and Brekka Harrison; grandson, Justin Harrison; great grandchildren, Serentiy Mills, Skyla Spoonhunter, Zayden Harrison, and Justin Clark Harrison, Jr.; brothers-in-law, Melvin and Myron Wolf.

She was preceded in death by her step father, Nate Brown; sisters, Ruth Scheer and Karen Sue Brown; mother, Leota Dunning; brothers, Ronnie Brown and Joe Dewberry; father, Jessie Dewberry. On-line condolences may be made to the family at TheDavisFuneralHome.com

Arrangements are under the direction of the Davis Funeral Home.