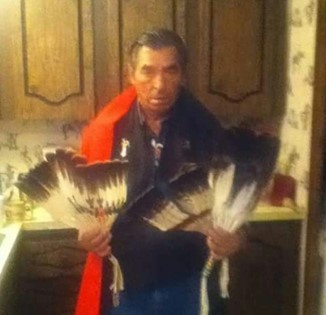 Delmer Duran, Sr.
Feb 28, 1946 - Jan 5, 2019
Delmer Duran, Sr., 72 of St. Stephens passed away on Saturday, January 5, 2019. A rosary will be held at 7:00 pm on Tuesday, January 8, 2019, at Great Plains Hall. A wake will follow at 60 C'Hair Lane. The funeral service will be at 10:00 am on Wednesday, January 9, 2019, at Great Plains Hall. Burial will follow at the Chief Black Coal Cemetery.

Delmer Joseph Duran was born on February 28, 1946 in Fort Washakie, WY to Steven and Ida Mae (Willow) Duran. Delmer grew up on the Wind River Reservation and made it his forever home.

Delmer was baptized into the Catholic faith. He was very active in the Native American Church.

He worked in the oil fields all of his working career. He held many different positions.

He enjoyed going to the casino, traveling, and making new friends. He was often found helping others, even at his age he would go out cutting trees and splitting wood for ceremonies. He had a gift for making others laugh and enjoyed telling stories and terrorizing. Above all he enjoyed spending time with his family. He will truly be missed by all who knew him, he had a big heart that he shared with everyone.

Delmer is survived by his sons, Leo Duran, Gregory Duran, Delmer (Rosa) Duran, Jr.; adopted son, Jake Small; daughters, Chalice (Tom) Shakespeare, Stephanie (Terrance) McRae, Claudette C'Bearing, Jolene (Julian) Hubbard, Joann Duran, Deion Duran, Mary Lyn C'Hair, and Morietta Duran; brothers, Claude Duran and Mike (Sherry) Duran; sisters, Judy Duran and Ida Monroe; and the families of Duran, C'Hair, Monroe, Willow, Brown, Ybearas, Roman, all of his Native American Church family, and numerous family members. If we overlooked anyone, please forgive us at this time.

He was preceded in death by his parents, Steven and Ida Duran; sisters, Joyce Duran, Estelle SunRhodes, Joanne Monroe, Arlene Bell, and Virginia Duran; and brothers, Steven Duran, Jr., Virgil Duran, and Tomas Ybarra.

On-line condolences may be made to the family at www.TheDavisFuneralHome.com.

Services under the direction of Davis Funeral Home.