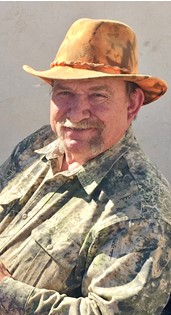 Robert "Wayde" Bulow
Oct 5, 1956 - Feb 16, 2019




Robert "Wayde" Bulow, 62 of Riverton passed away at his home on Saturday, February 16, 2019. A memorial service will be held at 1:00 pm on Friday, February 22, 2019 at Davis Funeral Home.

Robert Wayde Bulow was born on October 5, 1956 in Lander, WY to Robert Emil and Patricia (Hood) Bulow. He grew up in Lander, WY with his two brothers and two sisters. He graduated Lander Valley High School with the class of 1975. He then attended Central Wyoming College and earned his A.S. in Electrical Engineering.

On December 11, 1976 he married Deanna "Dee" Gray and together they had two children, Cody Wayde and Toni Michelle. She preceded him in death on December 24, 2016. On April 7, 2018, he married Beverly Herman.

He worked for thirty nine years at PerTech and worked his way up to Operation Manager.

He enjoyed hunting, fishing, camping, taxidermy and riding ATV's. He was a man of many talents and could create something out of nothing. His most recent endeavor was forging knives. He wrote and published six (6) books including a children's book, mountain man novels, and fantasy novels. His favorite time of the year was fall and the hunting camps when everyone was together.

He is survived by his wife, Beverly Bulow; mother, Patricia Calvert; son, Cody Bulow and wife, Catherine; daughter, Toni Lanier; four grandchildren, Callie Bulow, Cassie Bulow, Colter Lanier and wife, Emily, and James Lanier; step children, Brenda Wood and husband, Brandon and Barbara Herman; three step grandchildren, Kody Matteson, Dakoeta Matteson and Laramie Wood; brothers, Andy Calvert and wife, Ella, and Jimmy Bulow; and sisters, Kathy Kendall and husband, Dean, and Becky Sheperd and husband, Doug.

He was preceded in death by his father, Robert Bulow; wife, Deanna "Dee" Bulow; son-in-law, Alden Lanier; step-father, Andy Calvert; and his grandparents.

On-line condolences may be made to the family at www.TheDavisFuneralHome.com.

Memorials may be made to The American Cancer Society or to a local Hospice Foundation of choice in care of Davis Funeral Home, 2203 West Main Street, Riverton, WY 82501.



Services under direction of Davis Funeral Home.