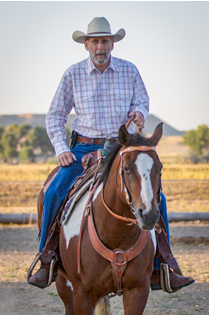 Dr. James White
Jun 30, 1946 - Mar 17, 2019
Dr. James R. White, age 72, succumbed to pancreatic cancer on the 17th of March, 2019 at home in Riverton, Wyoming. Jim was born on June 30, 1946 in Grand Rapids, Michigan to Vivian and James White. He graduated from Michigan State University in 1968 and earned his Doctor of Osteopathy from Des Moines University in 1972. Achieving his dream of becoming a doctor, Jim completed his residency at Metro Health Hospital in Grand Rapids, Michigan before proudly serving in the United States Navy. Upon completing his service to his country, he returned home to Grand Rapids where he spent over twenty-five years as a highly-regarded general surgeon. While at Metro Health, Jim was appointed Chief of Surgery and enjoyed his time mentoring and supervising surgical residents as the Residency Program Director. Additionally, he enjoyed teaching and took great pride in his position as an Associate Clinical Professor of Surgery at MSU's College of Osteopathic Medicine.

Jim had another great passion in life and that was a love of the West. In 2006, he and his wife, Bobbie moved to Riverton, here his dream of becoming a true cowboy became reality. He continued his surgery practice at both the Riverton Memorial Hospital and the Lander Regional Hospital serving in the roles of Chief of Surgery, Chief of Staff and Director of the Wound Clinic. Jim also served on the State of Wyoming's Medical Commission for over a decade. His work established a foothold in this new community, and Jim and Bobbie's adventurous spirit helped these roots grow stronger and wilder. They often explored the Wind River Valley through trail rides on horseback and hunting excursions in the mountains. In Wyoming, Jim was truly at home.

Jim was a father of three and showed his children that success can be gained through hard work, determination, and the absence of excuses. His example of getting things done, whether in the operating room or in a barn, made an indelible mark upon them. Jim is survived by his father, James; his wife, Bobbie; his brother, Ron (Sue); his children, Brian (Katie), Cheryl (Don) Johns, and Joe (Katherine); his step-daughter, Tami (Curt); and many grandchildren.

Jim passed away contentedly, proud of his accomplishments and pursuit of his dreams. Unfearful of death, he embraced Corinthians 15:55 and 57: "O death, where is thy sting? O grave, where is thy victory?...But thanks be to God, which giveth us the victory through our Lord Jesus Christ." In his final months, he gravitated to Robert Louis Stevenson's "Requiem," which ends, "Here he lies where he longed to be; / Home is the sailor, home from sea, / And the hunter home from the hill." Jim is home. Let the cowboys ride!

The family would like to thank the many doctors and Help for Health staff members who cared for Jim throughout his illness. A memorial service will be held on Saturday, March 23rd at 4:30 p.m. at Sunnyside Church of the Nazarene in Kinnear. Memorial contributions may be made to the Sunnyside Learning Center in Kinnear, WY or Horseplay Equestrian in Hudsonville, MI in care of Davis Funeral Home.

On-line condolences for the family may be made at theDavisFuneralHome.com. Arrangements are under the direction of the Davis Funeral Home.