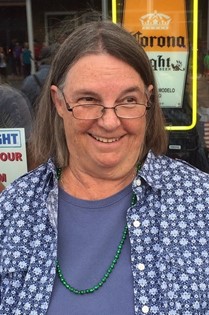 Mary "MJ" Butkovich
Nov 3, 1945 - Mar 25, 2019
Longtime Dubois resident Mary Josephine "MJ" Butkovich died March 25, 2019 in her home. She was 73 years old.

A celebration of life will be held Saturday, April 20 at 2 p.m. at the Rustic Pine Tavern. A carry-in dinner will follow.

Mary Josephine "MJ" Butkovich was born Nov. 3, 1945 in Denver, Colo., the daughter of Rosemary H. and Jack Ayer.

She grew up in Denver and graduated from South High School. She attended Colorado State University for one year then transferred to Colorado University, where she graduated with a degree in political science.

In her early years, she traveled a lot and worked various jobs.

In 1973, she met Buck Butkovich in Dubois; they were married June 1, 1974 and made their home in Dubois. They had one son, Will.

In 1993, the couple bought the Rustic Pine Tavern with their friends, Charlie and Cindy Brown, which they still currently own.

Mrs. Butkovich was accomplished in bookkeeping and accounting.

She was a loving mother and homemaker. She loved to travel, especially if a train was involved.

She loved reading, gardening, puzzles and life in general.

She spent countless hours volunteering for the Western Fremont County Humane Society, making Dubois a better place by helping with animal issues that all communities face.

Mrs. Butkovich served on the Dubois Planning Commission and always wanted Dubois to progress in a tasteful manner.

She is survived by her husband, Buck, of almost 45 years; son Will, sister Susan Ayer, brother John Ayer; nephews Madison Ayer and his family and Will Ayer and his family; and many friends.

She was preceded in death by her parents.

Memorial donations in her name may be made to the Western Fremont County Humane Society, P.O. Box 1198, Dubois, WY 82513.