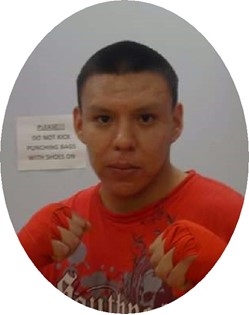 Garen "Beesh" Sankey
Jan 28, 1991 - Apr 20, 2019


Garen "Beesh" Sankey II, 28, died on April 20, 2019, from injuries sustained in a one vehicle accident on the Wind River Indian Reservation.

Beesh was born January 28, 1991, in Clinton, Oklahoma, to Nora and Garen Sankey Sr. However he spent most of his life residing on the Wind River Indian Reservation. He attended Wyoming Indian Schools in Ethete, Wy. Beesh was a member of the Northern Arapaho Tribe. He participated in traditional ceremonies. Beesh loved spending time with friends and family members, especially with his nephew's and neice's. During his early 20's, Beesh was an MMA fighter he enjoyed training with his adopted brother Craig Cordero. His hobbies included hunting, fishing cooking, horseback riding, singing, drawing and working out.

His humor was legendary, his smile unforgettable, his laughter was one of a kind, his kind, humble and compassionate spirit will be missed by many.

He is survived by both his parents Nora and Garen Sankey Sr., his brother's Clayton Sankey and Leo Bober, his sister's Stephanie and brother-in-law Jarred C'Hair, Gina and brother-in-law Christopher Chavis, Sigourney Sankey and sister-in-law Challis Brown, Stacie Sankey, Keiyonna Sankey, Bethany Sankey, and Adrianne Swimmer, his nephew's included Bradley, Caledon, Darian, Bryan III and Lennox, his neice's included Lindsay, Kylee, Keira, Kenadie, Amelia, Reigna, Naleigh, and Auri, his aunt Annette Bober, his uncle's Anthony Swimmer, Ford Sankey, Scott Sankey, Chuck and Clifford Lamebear and his adopted uncle Dallas Little Shield, his adopted brother's included are Terrance Lincoln, Kesley and Ryan Gambler Jr., Tevin Brown, Marlin Azbill, Craig Cordero, Don Callit, Tom Redman, Weston Shakespeare, Sidney Willow and Brodie Potter, as well his adopted mother's Kathy Hill, Patricia Clair-Eagle, Marilynn and adopted dad Ryan Gambler Sr. And numerous adopted family members. He is preceded in death by his paternal grandmother Ursula Sankey and his uncle Bryan M. Sankey.

Traditional wake service's will be held at 7 p.m. Thursday April 25, 2019 at Blue Sky Hall in Ethete, Wy. Alexander J. Sankey will officiate.

Funeral Services will also take place at Blue Sky Hall at 10 a.m. on Friday April 26, 2019. Internment will take place at Wallowing Bull cemetery.

On-line condolences may be made to the family at www.TheDavisFuneralHome.com.

Services under the direction of Davis Funeral Home.