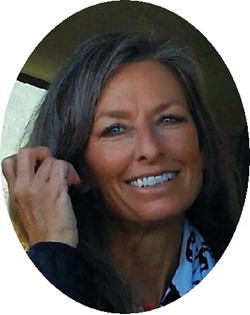 Eugenia "Gina" Beth Ablard
Dec 3, 1957 - Apr 25, 2019
Eugenia "Gina" Ablard, 61, of Riverton passed away on Thursday, April 25, 2019 at the Help for Health Hospice Home. A memorial service will be held at 2 p.m. on Monday, May 6, 2019 at Davis Funeral Home.

Eugenia "Gina" Beth Kness was born on December 3, 1957 in Jacksonville, FL to Robert and Sammie (Smith) Kness. Gina grew up all over the world as her father was a member of the United States Military. At the age of fourteen the family moved to Wyoming and it was her favorite place in the world. She spent time in Hawaii but Riverton was home.

Gina worked in healthcare as a care giver. She was Sherry Ratliff's caregiver for fourteen years before Sherry passed. She worked at Natural Health Solutions for eight years.

She married Butch Ablard in 1983. They divorced in 2013 and remained close friends.

Gina loved to go hiking, looking for old artifact, reading, and going on float trips with her close girlfriends. She was very spiritual and participated in sweats with Willie and Connie LeClair and loved learning and reading everything she could.

She is survived by her daughter, Beth (Graham) Jacobs; son, Gordon (Shannon Powell) Northcott; father, Robert Kness; mother, Sammie Smith; grandchildren, Leona, Knox, and Delores Northcott, Leif (Shelby Edwards) Krumland, Kendall (Tyler Pena) Krumland; great grandchildren, Xaria, Zaylah, and Xavier; former husband, Butch Ablard; Butch's son, Jason (Amanda) Ablard, his children, Raven, Samantha, and Aspen; brothers, Brian (Pennie) Frost and Jack Kness; sister-in-law, Marilyn Groesbeck; and many close friends and family.

Memorials may be made to Help for Health Hospice in care of Davis Funeral Home, 2203 West Main Street, Riverton, WY 82501.

On-line condolences may be made to the family at www.TheDavisFuneralHome.com.

Services under the direction of Davis Funeral Home and Crematory.