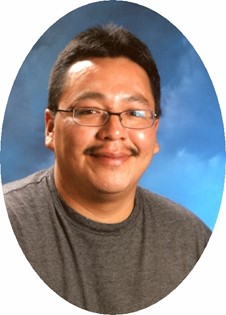 Frederick "Fred" Antelope, Jr.
Sep 26, 1973 - May 13, 2019
Frederick "Fred" Antelope, Jr., 46 of Riverton passed away at Wyoming Medical Center in Casper on Monday, May 13, 2019. A rosary will be recited at 7:00 pm on Thursday, May 16, 2019, at Great Plains Hall followed by the wake. A funeral service will be held at 10:00 am on Friday, May 17, 2019, at Great Plains Hall followed by burial at Wallowingbull Cemetery.

Frederick Ronald Antelope was born on September 26, 1973 in Pine Ridge, SD to Frederick Ronald Antelope, Sr. and Edna Mae Morrison. He grew up in South Dakota before moving to South Carolina and eventually to Riverton, WY. He attended Central Wyoming College (CWC) and Wind River Tribal College.

He was an enrolled member of the Northern Arapaho Tribe. He participated in the Sun Dance Ceremonies and was also a member of the Native American Church. He facilitated making a Buffalo Hide Teepee for the Northern Arapaho Tribe that was used at CWC.

On December 13, 2014 he married Flora Michelle Dewey in Riverton, WY.

He was a Certified Nursing Assistant, a lifeguard, librarian at St. Stephen's, member and facilitator of Golden Eagle Club traveling with youth, Little League Baseball coach, an Americorp member, and a certified GIS Mapper. He also worked as security at the Wind River Casino and Northern Arapaho Housing, was a CDL driver and worked for the city of Riverton as a laborer.

Fred enjoyed fishing, hunting, playing games with his son, and traveling. He also enjoyed watching car races, Ghost Adventures, Swamp Monster, and war movies.

He is survived by his wife, Flora Dewey; sons, Charles Ray Antelope and Redskye J. Antelope; daughters, Shanice "Neecey" Antelope and Natasha "Tasha" Antelope; grandchildren, Shantel "Rose-Ella" Duran and Shane "Ryan" Duran Jr.; step-sons, Ben Warren, Jr., Taylor Crazythunder and Matthew Crazythunder; step grandchildren, Mae Lena Crazythunder, Illarion Crazythunder, Anndrea Sitting Eagle, and Mikalo Sitting Eagle; brothers, Wendall Antelope, Sr., Jason Antelope, Donald Antelope, and Preston Lee; sisters, Tawnya Antelope and Precious Lee; aunts, Marian Whitemouse, Debra Frazier, Sarah Martinez, Cindy Morrison, and Joetta Brown; and uncles, Wilbur Morrison and Christopher Morrison.

He was preceded in death by his parents, Frederick Antelope, Sr. and Edna Morrison; sister, Theresa Marie Antelope; and brother, Robert Thomas Antelope.

On-line condolences may be made to the family at www.TheDavisFuneralHome.com.

Services under the direction of Davis Funeral Home.