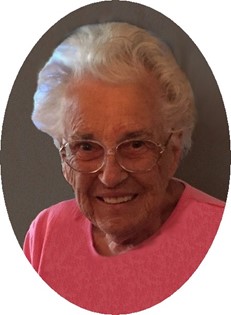 Ruth Cone
Dec 9, 1924 - Jun 10, 2019
Ruth Cone, 94 of Riverton passed away on Monday, June 10, 2019, at the Help for Health Hospice Home. As were her wishes no services will be held.

Ruth Eloise Hall was born on December 9, 1924 in El Segundo, CA to Thomas Casper and Viola May (Ward) Hall. At the age of nine years old she lived at the Masonic Temple Home in CA where she lived until she graduated high school.

In 1942 she married Dick L. Cone in Arizona, while he was in the Navy. Together they had three girls, Linda, Mary Lou, and Judy,. After 28 years of marriage they divorced.

Ruth and Dick owned The Bamboo Inn in Newhall, CA for more than 15 years. They then helped Dick's brother, Frank, run the Saugus Café in Saugus, CA. The Saugus Café was in the family for 86 years. Following that time Ruth and Dick moved to Lysite, WY to enjoy their love of hunting. While in Lysite, Ruth worked at the Lysite Store as a clerk for many years before moving to Riverton. She had also worked as a hostess at the Gas Lite and the Teton.

After many years she reconnected with her lifelong friend, John E. Wilson. The two had met when they were living at the Masonic Temple Home. John moved to Riverton to be with Ruth and they spent fifteen years together before he passed.

One of Ruth's proudest achievements was to the matriarch of two families with five surviving generations. She loved spending time with her family. For over fifteen years, she and daughter, Linda, were always hunting rocks, and of course they found the best of the best.

She is survived by daughter, Linda and Odell Fuller; sons-in-law, Gary Bleier and Butch Baty; grandchildren, Julie and Leo Hopkins, Tera and Doug Bauer, Gary and Leslie Grayson, Bryan and Gayla Cruikshank; Sheri and Duane Inglin, D'Anna and Adam Powell; great grandchildren, Mandi Hawkins and Stephanie Cassidy, Tiffani and Shawn Weber, Randall Hopkins and Sara Mueller, Trista and Trent Day, Tasha and Brad Lehman, Darcy and Cody Robertson, Blake Inglin, Jordon Inglin, Ty Cantrell, Codi Cruikshank, Jadyn Grayson, Bradyn Grayson, Myla Grayson, Gary "Junior" Grayson, Tristan Roylance and Madalyn Roylance; and several great great grandchildren.

Preceded in death by her parents; two daughters, Mary Lou Bleier and Judy Baty; great great granddaughter, Kyler Weber; and lifelong friend, John E. Wilson.

Memorials may be made to Help for Health Hospice or Tough Enough Cancer Fund in care of Davis Funeral Home, 2203 West Main Street, Riverton, WY 82501.

On-line condolences may be made to the family at www.TheDavisFuneralHome.com.

Arrangements under the direction of Davis Funeral Home.