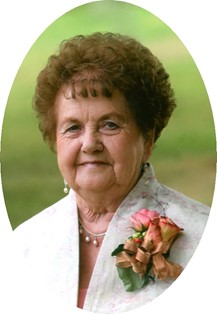 Phyllis Kornder
May 8, 1930 - Oct 17, 2019




Phyllis M. Kornder, 89, of Riverton passed away Thursday, October 17, 2019 at the Help for Health Hospice Home with her family by her side. A viewing will be held on Monday, October 21, 2019, at Davis Funeral Home from 5:00 pm to 7:00 pm. Funeral services will be 10: 00 am, on Tuesday, October 22, 2019 at Davis Funeral Home with burial at Mountain View Cemetery.

Phyllis Maxine Iverson was born May 8, 1930 to Melvin and Laura (Smith) Iverson in Aberdeen, South Dakota. She graduated from Bancroft, SD as the valedictorian with the class of 1949.

On August 23, 1949 she married Donald B. Kornder in Huron, South Dakota. To that union eight children were born. The couple moved to Riverton in 1967 from De Smet, South Dakota. The couple later divorced.

Phyllis was a member of the Riverton Assembly of God Church where she was a Sunday School Teacher and taught bible studies at home. She enjoyed her children, grandchildren, working in her yard, cooking, sewing and crocheting.

She is survived by her children, Bernie and Jessica Kornder of Gillette, WY, John and Vickie Kornder of Riverton, WY, Jill and Chris Pendergraft of Riverton, WY, Judy Fielder of Casper, WY, Laurie and Jon Pfarr of Payson, AZ, Cheryl "Cherrie" and Tony Crippen of Riverton, WY and Jeanne and Randy Reece of Riverton, WY; daughter-in-law, Carla Kornder of Santa Cruiz, CA; 21 grandchildren; numerous great grandchildren; sister-in-law, Betty Iverson of De Smet, South Dakota; sisters, Maryanne and Martin Ellingson of Lake Preston, South Dakota and Connie and Larry Chenney of De Smet, South Dakota; brother-in-law, Morris Hale of Mitchel, SD.

She is preceded in death by her parents; son, Steve Kornder; brother: Glen Iverson: sister, Dorothy Hale; and son-in-law, Emmett Fielder.

Memorials may be made to Help for Health Hospice Home in care of Davis Funeral Home, 2203 West Main Street, Riverton, WY 82501.

On-line condolences for the family may be made at TheDavisFuneralHome.com.

Services are under the direction of the Davis Funeral Home.