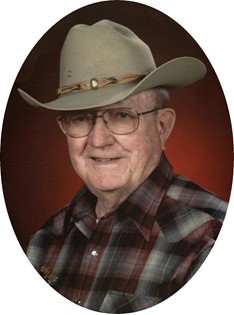 Robert W. "Bob" Campbell
Jan 15, 1929 - Jan 9, 2009
Funeral Mass for Robert W. "Bob" Campbell of rural Shoshoni will be at 10 a.m. Thursday, Jan. 15, 2009, at St. Margaret's Catholic Church in Riverton. The Rev. Father Andrew Duncan will officiate.

Military honors will be by the Wyoming National Guard.

Interment will follow at Mountain View Cemetery in Riverton.

There will be a rosary at 7:30 p.m. Wednesday, Jan. 14, at the Davis Funeral Home of Riverton, preceded by a viewing from 5 to 7:30 p.m. Wednesday at the funeral Home.

Mr. Campbell died Friday evening, Jan. 9, 2009, at Riverton Memorial Hospital. He was 79.

Robert W. Campbell was born in Riverton on Jan. 15, 1929, the son of Gerald A. Campbell and Grace (Dolan) Campbell. He was a life-long resident of Fremont County.

He attended schools in Riverton and Shoshoni and the University of Wyoming.

He served in the U.S. military during the Korean War.

On Feb. 15, 1958, he married Rita Fulton in Casper.

Mr. Campbell was of the Catholic faith and member of St. Margaret's Catholic Church in Riverton.

Mr. Campbell's family said he started working following a team on the family farm, moved on to the trucking, construction, and oil field businesses and completed his working career driving the four-wheeler on the family farm.

He had served on the Shoshoni School Board, the Fremont County Solid Waste Board, was a member of the Veterans of Foreign Wars, and the Shoshoni Senior Center.

His family said he enjoyed trucks, airplanes, Caterpillar tractors, farming, and ranching.

Survivors include his wife, Rita Campbell of Shoshoni; son, John Campbell and his wife Sharon, their children Andrea and Shari Scribner, and great grandchildren, Hailee Scribner and Jordon May; son, Jerry Campbell and his wife Tami and their daughter, Johnee Jo Campbell; son, Joe Campbell and his wife Annie; son, Scott Campbell and his wife Jody, and their daughter Elsie Campbell; and son, Jock Campbell and his wife, Chera and their children, Cannon Campbell, and IreLynn Campbell.

He was preceded in death by his father, Gerald A. Campbell; mother, Grace Davison; step-father, W.A. Davison, and son, Jeff Campbell.

Memorials may be made to a charity of the donor's choice.

On-line obituaries are available and condolences for the family may be made at: thedavisfuneralhome.com

Services are under the direction of the Davis Funeral Home of Riverton.