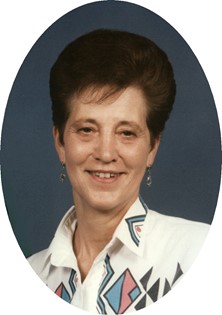 Lavonne N. McConnell
Oct 30, 1935 - Jan 28, 2009
Memorial services for Lavonne N. McConnell of Riverton will be at 10 a.m. Monday, Feb. 2, at the First Baptist Church, at First and Sunset in Riverton.

Pastors Dale Adams and Rex Whitman will officiate.

Inurnment follows at Mountain View Cemetery in Riverton and in Ault, Colo.

Mrs. McConnell died at her home in Riverton Wednesday night, Jan. 28, 2009, at the age of 73. She had suffered lung cancer.

Lavonne Nell Neff was born in Bridgedale, Colo., on Oct. 30, 1935, the daughter of George and Emma Neff.

She married Bob Glen Laney, who preceded her in death.

On Oct. 30, 1980, she married Edward Eugene McConnell in Riverton.

Mrs. McConnell worked as a waitress at Lakeside Resort for many years and the Shoshoni Restaurant. Prior to moving to Shoshoni, and then Riverton, she had lived in Ault, Colo.

Mrs. McConnell was of the Christian faith. She was an active member of the First Baptist Church of Riverton where she participated with the planning committee for funeral dinners and other celebrations in the church.

Her family said she enjoyed painting, cooking, sewing, playing cards, and spending time with her family and friends.

She is survived by daughter, Terri Nave and her husband Don of Lander, and daughter Wendy Vore and her husband Jeff of Glendo; step-son, Kelly McConnell of California; grandchildren, Brian and Trint Ayers and his son Clay, Brittney, Devon and Calie McConnell, Tiffany Velarde and husband Billy and children; a brother, Virgil Neff and his wife Betty of Denver.

She was preceded in death by her spouses, Bob Laney on Sept. 30, 1979 and Ed McConnell on April 7, 2002; son Steven Laney in March of 2006; her father George Neff on November 18, 2003 and mother Emma Neff on Febr. 24, 2007.

Memorials may be made to the First Baptist Church, Help for Health Transportation Van, or to the Little Wind Hospice, in care of the Davis Funeral Home, 2203 West Main, Riverton, WY 82501.

On-line obituaries are available and condolences for the family may be made at: thedavisfuneralhome.com.

Services are under the direction of the Davis Funeral Home of Riverton.