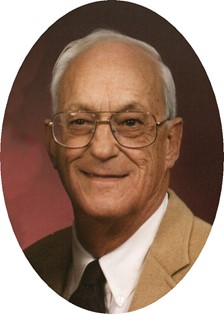 Benjamin O. Moss
Jan 1, 1926 - Mar 7, 2009
Longtime Fremont County businessman, Benjamin O. Moss, 83, died March 7, 2009 at his Lander home. Funeral Mass will be at 10:00 a.m., Wednesday, March 11th at Holy Rosary Catholic Church in Lander. The Rev. Fathers Dave Erickson and Robert Siu will officiate. Interment will follow at Mount Hope Cemetery with military honors by the Hudson VFW Post 4799.

Visitation will be from 6:00 p.m. until the rosary at 7:00 p.m. on Tuesday, March 10th and from 9:00 a.m. to 10:00 am before the Funeral Mass at the church on Wednesday.

Ben was born January 1, 1926 in Havre, MT, son of Benjamin Moss and Marie (Spychalla) Moss. He graduated from Bradley University in 1951 with a degree in Accounting and International Law. He and a group of fellow students started the Pi Kappa Alpha at Bradley University in 1950. Mr. Moss served in the U.S. Army during WWII from 1943 until 1945. He and his grandson Bryon Hewitt went back to Washington, D.C. during the dedication of the WWII Monument in October, 2005.

On February 3, 1951, he married Gloria Carrigan in Peoria Ill. The couple co-owned the Ben's Supermarkets in Thermopolis, Riverton and Lander from 1952 until 1984.

He was a member of the Holy Rosary Catholic Church, Knights of Columbus, BPOE, Elks, Lander Chamber of Commerce and VFW Post 4799 of Hudson, WY, Kiwanis and Lions Club.

Survivors include his wife Gloria of Lander; children, Lynn and Doug Miller of Lander, Ronald and Sally Moss of Wilsonville, OR, Sharon and Anthony King of Tucson, AZ, Benjamin Moss III of Gillette, WY, and Steven Moss of Beaverton, OR, brothers, Kenneth and Alice Moss of Cheyenne and Norman and Pam Moss of Riverton and sister, Lois Archer and husband Mel of Clearwater, FL; 10 grandchildren and 11 great grandchildren.

He was preceded in death by his parents; siblings, Beverly Monroe, Avis Chase, Marilyn Spencer, Evelyn Keralis, Richard Moss and Alan Moss; grandson, Tyler Moss.

Memorial Donations to the Wyoming Catholic College in care of Davis Funeral Home, 2203 West Main Street, Riverton, Wyoming 82501.

On-line obituaries are available and condolences for the family may be made at: thedavisfuneralhome.com.

Services are under the direction of the Davis Funeral Home of Riverton.