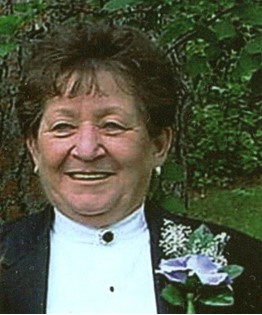 Laurie A. Shoopman
Dec 12, 1940 - Mar 14, 2009
Laurie A. Shoopman of Riverton died on Saturday, March 14, 2009, at Riverton Memorial Hospital. She was 68.

A Celebration of Life will be at 10 a.m. on Saturday, June 6, at Tough Creek on Boysen Lake.

Laurie L. Larson was born in Gebo on Dec. 12, 1940, the daughter of William and Irma (DeShay) Larson. She attended Hot Springs County High School in Thermopolis.

On Feb. 24, 1957, she married Warren Vinton Shoopman in Thermopolis. He preceded her in death in 1999.

Mrs. Shoopman had lived in various places in the Western United States with her husband while he worked in construction. They settled in Riverton and Thermopolis in 1968 and moved to Riverton in 1971.

They moved to Shoshoni where she worked as a waitress at the Yellowstone Drug in Shoshoni. Prior to that she had worked in several places, including the Bronco Bar, Teton Hotel, the doughnut shop on The Hill in Riverton, the Valley View supper Club in Riverton, Perry's Café in Thermopolis, and the Legion Club in Thermopolis. Following Mr. Shoopman death in 1999, she moved back to Riverton. Mrs. Shoopman was a member of the Shoshoni Veterans of Foreign Wars Auxiliary.

Her family said she enjoyed sewing, crosswords, puzzles, other games, and her family.

Survivors include three daughters, Mary Ellen Roylance and her husband Gordon of Riverton, Karen James and her husband Tim of Shoshoni, Kay Lynn Cook and William Bigger of Rapid City, S.D.; six grandchildren, Johnnie and Brandi (Eisemann) Roylance, Mindi Forsyth, Jennifer James and Hector Rico, Nicole James, Tracie Perkins and husband Dylan, and Heather Palmer and husband Tim; 10 great grandchildren.

She was preceded in death by her parents; her husband; a brother, Leonard Larson, and a sister, Karen Vannoy.

Memorials may be made to Paws for Life, in care of the Davis Funeral Home, 2203 West Main, Riverton, WY 82501.

On-line obituaries are available and condolences for the family may be made at: thedavisfuneralhome.com

Arrangements are under the direction of the Davis Funeral Home of Riverton.