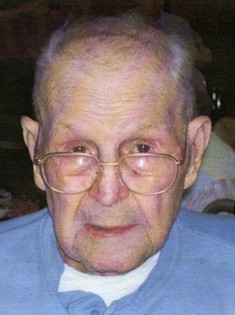 Albert E. "Al" Wagner
Sep 14, 1914 - Apr 4, 2009
Albert E. "Al" Wagner of Riverton died Saturday morning, April 4, 2009 at Wind River Healthcare & Rehabilitation Center. He was 94 years old.

Cremation has taken place, with cremated remains inurned at Mountain View Cemetery with his first wife, Pauline. A memorial service will be held at a later date.

Albert Emmanuel Wagner, Sr. was born in Russell, Kan., on September 24, 1914, the son of Von Heinrich Wagner and Catherine (Eurich) Wagner.

He grew up on a family farm with his six brothers and three sisters in Torrington, Wyo.

In April of 1932 Mr. Wagner married his first wife Pauline in Lingle, Wyo. She preceded him in death in 1967 in Dubois. In July of 1967 he married Barbara F. Munding in Jackson.

He was hired as a heavy equipment operator by the Wyoming Highway Department in 1940 in Torrington and the same year moved to Jackson Hole. In 1941 he transferred from Jackson to Dubois as part of a five-man crew that first kept Togwotee Pass open in the winter. He remained in Dubois for the next 66 years, retiring from the Highway Department in 1976 with 37 years of service. He continued to work for local Dubois contractors and ranchers operating heavy equipment.

In 2007, Mr. Wagner moved to Riverton to the Sertoma West Senior Housing Complex.

He was of the Lutheran faith.

The family said Mr. Wagner enjoyed the Wind River Mountains, big game hunting, trapping, fishing and rock hunting. He had a passion for collecting and working on antique equipment. He loved reading three newspapers daily and everything about early western history, and archeology of the west. He was well versed in Wyoming and national politics and liked to challenge people with political trivia.

In addition to his wife Barbara of Riverton, Mr. Wagner is survived by son Albert Wagner, Jr. of Riverton; daughter Shirley A. Thompson of Klamath Falls, Ore.; step-son Lou Hailey of Charleston, Ore.; eight grandchildren and nine great grandchildren; and a sister Edith.

He was preceded in death by his first wife Pauline Wagner; his eldest son Harold Wagner of Omaha, Neb. in 1982; brothers Henry, Leo, Paul, Ted, Adolph, Reiny and Victor; sisters Mollie and Alma.

On-line obituaries are available and condolences for the family may be made at: thedavisfuneralhome.com.

Services are under the direction of the Davis Funeral Home of Riverton.