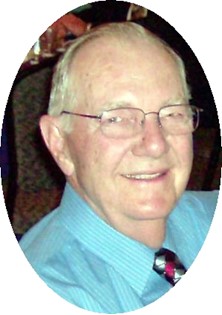 Danny W. Thompson
Aug 25, 1939 - Jul 19, 2009
Dan Thompson, 69 of Lander, died at his home on Sunday, July 19, 2009, surrounded by his family.

A celebration of life will be held at 1:00 p.m. on Thursday, July 30, at Covenant Presbyterian Church, 975 Fremont, in Lander with Pastor Scott MacNaughton officiating.

Danny. W. Thompson was born in Palo Pinto County, Texas, on Aug. 25, 1939, the son of L.E. and Zelma (Pope) Thompson. He attended schools in Brazos, Abilene, and Rule, Texas, before enlisting in the U.S. Air Force in 1956.

He served with the military for 6-1/2 years, beginning as a communication specialist in Alaska until 1959 and ending his tour of duty with the rank of Staff Sergeant, serving as crew chief on a KC135 tanker at Fairchild Air Force Base in Spokane, Wash.

After discharge, Mr. Thompson traveled the United States, working in the private sector. He transferred with Mid-Continent Supply to Wyoming in 1964 where he met and married Myra Ellen Berg in Casper on July 15, 1965.

Mr. Thompson was employed by Kobe, Inc., between 1965 and 1971 in Texas, Wyoming, and California. In 1972, he began working in electronic manufacturing with Mepco/Electra in Mineral Wells, Texas. In 1981, he was hired by West Texas Linen Company in Abilene, Texas, as production manager and later as general manager. In 1987, he was employed as a regional manager for the Todd Uniform Corporation in St. Louis, Mo.

During the early years raising their family, Mr. Thompson was active coaching Little League baseball, Pony League baseball, girls' softball, and Pop Warner football. His family said he enjoyed watching his daughters perform in marching band at football games and Texas state competition. They said the family enjoyed traveling throughout the country.

In 1994, Mr. and Mrs. Thompson moved to Lander and owned and operated the Kinnear convenience store until their retirement in 2005. They spent their retirement years traveling to Missouri to see their grandchildren and to Arizona for the winter months. The family said Mr. Thompson especially enjoyed the summer vacations his grandchildren spent in Lander.

Mr. Thompson attended Covenant Presbyterian Church in Lander.

He is survived by his wife of 44 years, Myra; daughter, Cindy Thompson and partner Tracy Parkinson of Sandy, Utah; granddaughter, Maggie Ellen Doerge; son-in-law and daughter-in-law, Mike and Kim Doerge; grandson, Michael Doerge, Jr., all of St. Charles, Mo.; two brothers, Jack Thompson and wife Jo of Chattanooga, Tenn., and Joel Thompson and wife Karen of Mineral Wells, Texas; one sister, Diana Stewart of Lipan, Texas.

Mr. Thompson was preceded in death by his daughter, Pam Doerge in 1994; his mother, Zelma in 2000 and father, L.E. in 2003; sisters-in-law, Lavern Thompson and Marsha White; brother-in-law, Ron Stewart, and nephew, Aaron Berg.

Memorials may be made to Fathers in the Field (fathersinthefield.com) or by calling 307-332-0901, or in care of the Davis Funeral Home, 2203 West Main Riverton, WY 82501.

On-line obituaries are available and condolences for the family may be made at: thedavisfuneralhome.com.

Arrangements are under the direction of the Davis Funeral Home of Riverton.