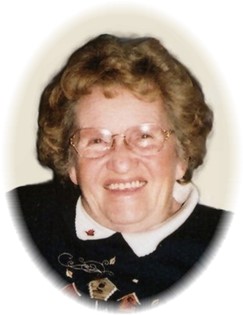 Mary Joeda Brownell
Apr 15, 1924 - Oct 2, 2009
Funeral services for Mary J. Brownell, 85 of Riverton, will be held at 2 p.m. on Wednesday, Oct. 7, at the Veile Mortuary Chapel in Worland, with Stake President Mike Snyder of the Church of Jesus Christ of Latter-day Saints officiating.

Visitation will be held from 6 to 8 p.m. on Tuesday, Oct. 6, at Veile Mortuary in Worland.

Interment will follow at the Riverview Cemetery there.

Mrs. Brownell died on Sunday, Oct. 4, 2009, in Bozeman, Mont.

Mary Joeda was born on April 15, 1924, in Troy Mont., the daughter of Joseph Patrick and Mary Edith (Everly) Collogan. The month before she turned 2, her mother died of cancer. She was then placed in foster care until the age of 5, when her father married Clara Cripe. In 1942, she graduated from Troy High School.

In 1943, she joined the U.S. Army Nurse Reserve Corps and was in nurses training until she met and married Donald L Grende June 30, 1944. The couple had three children, Donna, Carmen and Roger, and later divorced. She married Hugh James "Jim" Kelsey on July 18, 1955 and had one daughter, DeAnna Dee. The family lived in Whitefish, Mont., until 1971 when Mr. Kelsey died. She then married James B. "Jim" Brownell on Nov. 15, 1971 in Worland, where they owned the Worland Answering Service. After selling the answering service, the couple moved to Hotchkiss, Colo., where they lived for four years before moving back to Worland. After Mr. Brownell's death in 1998, she moved to Casper to live with her daughter, Dee Dee. They then moved to Riverton in 2005 and were in the process of moving to Lake Havasu City, Ariz.

In Worland, she was active in Crafty Gals Homemakers Club for 21 years and served as president numerous times. She was also elected twice to be the president of Washakie Homemakers Council.

In Riverton, she was active in Mountain View Homemakers Club and served as president in 2007. In 2008, she won the Homemaker of the Year Award.

Her family said Mrs. Brownell enjoyed crocheting, gardening, and visiting with her family and friends. She also enjoyed traveling with her late husband, Jim Brownell and was able to see the ocean for the first time with him. Following Mr. Brownell's death she was able to visit her daughter Carmen three times in Hawaii.

Survivors include her daughters, Donna and Terry Raymond of Phoenix, Ariz., Carmen and Robert Cortez of Las Vegas, Nev., and DeAnna Dee and Randy Gates of Lake Havasu City, Ariz.; son, Roger and Kari Kelsey of Billings, Mont.; step-daughter, Darla Lewis of Missoula, Mont.; brother, Joseph and Kay Collogan of Libby, Mont. and sister, Jeannie Meyer of Troy, Mont.; 13 grandchildren, 25 great grandchildren, five great-great grandchildren.

She was preceded in death by her parents; husbands; sisters, Claire Gatzke and Josephine Collogan; great granddaughters, Halli and Hunter Yorgason, and great-great grandson, Payton Raymond.