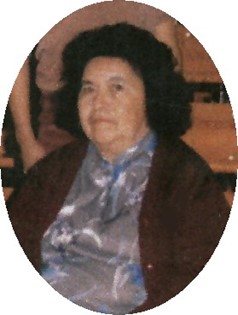 Ophelia V. Pogue
Oct 10, 1929 - Oct 3, 2009
Ophelia V. Pogue of Crowheart died Saturday, October 3, 2009 at Rocky Mountain Care Center in Evanston. She was 79 years old.

Funeral services will be conducted at 2:00 p.m. Friday, October 9, 2009 at the family home, 8662 Hwy 26, Crowheart, with Pastor Don Nimeck officiating. Burial will follow at Sacajawea Cemetery.

A viewing will be held from noon to 6:00 p.m. Wednesday, October 7, 2009 at Davis Funeral Home. A second viewing will be Thursday, October 8, 2009 at the funeral home, with a wake to follow at the family home.

Ophelia Virginia Crispin was born at Ethete on October 10, 1929, the daughter of Henry Crispin and Susie (Armajo) Crispin.

She spent 55 years in Crowheart, and a few years in Colorado Springs, Colo., while her husband was in the Veterans' Hospital there.

On May 1, 1955 she married James Pogue, Sr. at Fort Collins, Colo.

Mrs. Pogue was of the Lutheran faith, attending the Wind River Lutheran Church.

She was a rancher, homemaker and teacher's aide. Mrs. Pogue had worked for the Shoshone Tribe as a painter, for Wyoming Indian Schools as a teacher's aide, for the Shoshone and Arapaho Tribes and Fremont Counseling as an alcohol counselor.

Mrs. Pogue was a member of the Richard Pogue Post #81 Auxiliary, and the Yellowcalf Memorial Club.

The family said she loved the mountains, ranching and her cows, carried the sacred pipe for the Arapaho Sundance, enjoyed her neighbors in Crowheart, getting wood, beadwork, crocheting, making quilts and knickknacks. They said most of all she loved her family.

Survivors include her son, James Pogue, Jr. of Crowheart; daughters, Martina Teton-Garcia and her husband Audelio of Taylorsville, Utah, Veronica Tsosie of Havre, Mont., Pamela Hereford and her husband Sherman of Crowheart and Cheryl Rosander; a special grandson Richard Pogue, whom they raised; sister, Mary Lee; nieces, Olivia Sun Rhodes, Janis Sun Rhodes, Victoria C'Hair, Vonda Crispin and Aline Kitchen; nephews, John Crispin, Jr., Elliott Sun Rhodes, George Sun Rhodes, Jr.; numerous grandchildren and great grandchildren; cousins, Earlene Crispin, Beverly Crispin, Earl Crispin, Jr. and Lyle Crispin; members of the Crispin, Roman, Duran, Littleshield, Whiteplume, Niedo, Allen, Norah, Wesaw and Trumbull families; other extended family members.

Mrs. Pogue was preceded in death by her husband, James Pogue, Sr.; parents, Susie and Henry Crispin; brothers, Earl Crispin, Sr., John Crispin, Sr., Charles Crispin, Sr.; sister, Olive Sun Rhodes; nieces, Glennita Crispin and Gloria Crispin; an aunt, Helen Cedartree; and a son-in-law, Casey Tsosie.

On-line obituaries are available and condolences for the family may be made at: thedavisfuneralhome.com.

Services are under the direction of the Davis Funeral Home of Riverton. She was a member of the Richard Pogue Post #81 Auxiliary, and the Yellowcalf Memorial Club.